The Los Angeles Kings made their first big splash of the summer yesterday, acquiring forward Viktor Arvidsson from the Nashville Predators in exchange for the 40th overall selection in this year's draft and a 2022 third-round pick.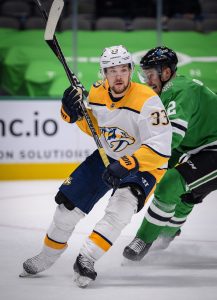 The deal came after two consecutive seasons where Arvidsson has come up short of expectations, with just 25 goals and 52 points over 107 combined games. That's a big step backward for the player who racked up 34 tallies in just 58 games during the 2018-19 season, or the one that had posted back-to-back 61-point seasons the two years prior. Arvidsson has also failed to ever play in every scheduled game for the Predators, dealing with various minor injuries throughout the last several years.
Still, there's lots of upside to the 28-year-old forward, something the Kings can take a chance on next season. Los Angeles has amassed one of the most impressive prospect groups in the NHL and didn't have to forfeit a single one to land the talented winger. In fact, they still own a draft pick in each of the rounds they gave up, thanks to previous trades for Alec Martinez and Jeff Carter. There was an opportunity to add an established forward without drastically affecting the Kings future, and they took it.
Was Arvidsson the right choice though? That same draft capital could have been used to land someone else, and it's not like he has provided much excess value on his $4.25MM deal the past two seasons. He immediately becomes the Kings' third-highest paid forward and will contribute to a bit of a financial squeeze in the coming years. Even though Los Angeles has shed some of their highest-priced assets in recent years, they still have nearly $27MM tied up in the trio of Anze Kopitar, Drew Doughty and Jonathan Quick. As younger players start reaching restricted (or unrestricted, in the case of Calvin Petersen) free agency, they'll need raises to keep them in the organization. Adding a $4.25MM hit doesn't come without some risk in that regard, though if Arvidsson bounces back it won't be much of an issue.
For Nashville, moving Arvidsson not only cleared a bit of cap, but also helped their expansion situation. Should the team decide to go the eight-skater protection route in order to keep all of their talented defensemen, the forward list is down to just a few names. Moving Arvidsson for some draft capital now allows them to protect someone else, a little extra value that should be taken into account when assessing the trade.
Filip Forsberg certainly didn't like the deal, but how do you think each team did? Cast your vote for each side below and make sure to explain your thoughts in the comments.
[Links for mobile/app users: Predators, Kings]
Photo courtesy of USA Today Sports Images