One of the biggest names to watch as we head toward free agency next week is Dougie Hamilton. The Carolina Hurricanes defenseman is set to hit the market just after Seth Jones and Cale Makar, two other right-handed defensemen, signed huge new contracts. Jones, who is a better comparable given his proximity to free agency, will carry a $9.5MM through the 2029-30 season on an eight-year deal. Hamilton's camp must be licking their chops hoping for a contract similar to that, and they've already received permission from the Hurricanes to speak with other teams around the league.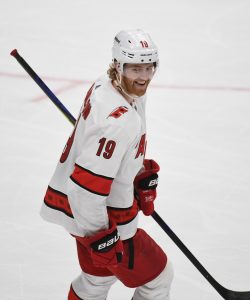 Today, Larry Brooks of the New York Post writes that the New Jersey Devils are emerging as a contender for Hamilton's services, and that there is "mutual interest." Brooks suggests a seven-year deal with an average annual value of $9MM could be the number for the Devils, who will soon watch the same amount of money come off the books. P.K. Subban's $9MM cap hit will expire after the 2021-22 season, meaning New Jersey has plenty of cap space if they want to commit to Hamilton long-term.
The Devils of course just added Luke Hughes to the program with the fourth-overall pick, adding the little brother of star center Jack Hughes. The younger of the two is expected to head to the University of Michigan for next season, but will quickly rise through the ranks and could be on the Devils lineup in a few years. The idea of a blueline including Hamilton, Hughes and 21-year-old Ty Smith is certainly an intriguing one, not to mention players like Damon Severson and Ryan Graves, both only 26.
Hamilton, 28, finished fourth in the Norris Trophy voting this season after another outstanding offensive year, recording 10 goals and 42 points in 55 games. That's the seventh-straight season where he has recorded at least 10 goals and 39 points, and the fifth-straight year he has received votes for the Norris. There's no doubt that Hamilton can lift a team with his puck-moving ability, but signing any contract of the suggested value is always a risk.
In just a few days, the markets will open and any team will be able to sign Hamilton to that seven-year deal. The Devils certainly won't be the only team with interest.
Photo courtesy of USA Today Sports Images