The Toronto Maple Leafs and Zach Hyman appear to be parting ways this summer, but it could potentially even happen before free agency opens later this month. Darren Dreger of TSN reports that the Maple Leafs have granted Hyman's agent permission to speak with other clubs, opening the door for a trade of his rights before the open market. Dreger adds that there is "considerable interest" league-wide, but some would have to wait until the expansion draft passes to actually sign the pending UFA forward.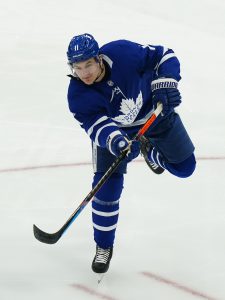 Last night, Pierre LeBrun explained on TSN that there was a "pretty sizable gap" in negotiations between Hyman and the Maple Leafs front office, noting that he believes on the open market Hyman could receive between $5.5-6MM (AAV) on the open market. That's just isn't possible for Toronto to hand out, especially on a long-term deal to a player that recently turned 29 and has dealt with major knee injuries over the past few seasons. There's no doubt that Hyman could help the team, but with so much cap tied up in the team's top forwards, paying him what he'll receive elsewhere doesn't make much sense.
Andy Strickland of Bally Sports Midwest believes that no team will get Hyman to sign a contract of fewer than seven years, and lists the St. Louis Blues, Edmonton Oilers, Vancouver Canucks, Calgary Flames and even the Seattle Kraken as potential teams of interest. The Maple Leafs are the only team that can currently offer him an eight-year deal, but could potentially work out a sign-and-trade with one of the other clubs. The Kraken would get a chance to speak with him ahead of the expansion draft as well and could offer an eight-year deal, though that would mean forfeiting their pick from the Maple Leafs roster.
Hyman has been an excellent player for the Maple Leafs the last several years, scoring at a high rate in shortened seasons. After returning from ACL surgery in 2019-20, he scored 21 goals and 37 points in 51 games before the season was shut down. This year, he had 15 goals and 33 points in 43 games, but again fell victim to a knee injury that kept him out for part of the season. He did return in time for the playoffs, but registered just a single goal in seven games against the Montreal Canadiens, despite averaging nearly 23 minutes of ice time.
The Maple Leafs are likely saying goodbye to several pending free agents this summer, but getting back an asset out of a Hyman trade would certainly lessen the blow. The team has one of the lowest values in the league in terms of 2021 draft capital, with just three picks to make this year. With a healthy free agent market and rumors swirling about Tyler Bertuzzi, Hyman could be replaced, though it remains to be seen how taking one of the league's best forecheckers out of the lineup will affect the rest of their highly-paid forwards.
Photo courtesy of USA Today Sports Images