Free agency is now just under a month away and many teams are already looking ahead to when it opens up.  There will be several prominent players set to hit the open market in late July while many teams have key restricted free agents to re-sign as well.  Dallas has a handful of veterans that will be reaching unrestricted free agency but their biggest contract this summer will be their top young defenseman.
Key Restricted Free Agents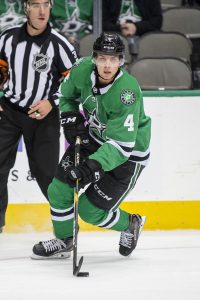 D Miro Heiskanen – The highest-picked defenseman from the 2017 draft class (third overall) didn't waste much time establishing himself as a focal part of Dallas' back end and logged nearly 25 minutes per game this season.  He wasn't able to maintain his strong production from the bubble last summer but still managed 27 points in 55 games which is above average for a defenseman.  A big payday is coming with the question being how long the contract will be.  The Stars would undoubtedly love to give him a max-term eight-year contract, buying four extra years of team control in the process.  However, with the cap flat now and Heiskanen not eligible for arbitration this time around, a bridge deal would give him a chance to improve his numbers and enter negotiations in hopefully a better financial environment plus arbitration rights.
F Jason Dickinson – His offensive numbers on a per game basis were comparable to his previous two seasons which saw him surpass the 20-point mark.  But Dickinson is known more for defensive prowess and was tied for second in SH ATOI among Dallas forwards.  He's a capable third-liner who can play the wing and down the middle, making him a useful player to have.  However, Dickinson is owed a $1.6MM qualifying offer with arbitration rights that could push the price tag into the $2MM range.  If the Stars want to buy themselves some extra wiggle room this summer, that might be a bit too pricey.  Accordingly, it wouldn't be surprising to see Dallas try to get something done before the qualifying offer deadline.
F Joel Kiviranta – After spending most of 2019-20 in the minors, the 25-year-old didn't see any AHL action this season and got into a career-best 26 NHL games where he had 11 points.  Kiviranta is best known from his play in the bubble where he had five goals in 14 postseason contests last summer but that alone won't give him too much leverage in talks even though he's arbitration-eligible.  He should be able to get a small raise from the $925K he made on his entry-level deal but not too much more than that.
Other RFAs: F Nicholas Caamano, D Joseph Cecconi, D Ben Gleason, D Julius Honka, F Adam Mascherin, G Colton Point, D Jerad Rosberg
Key Unrestricted Free Agents
D Jamie Oleksiak – It was a disappointing year for quite a few Dallas veterans but that wasn't the case for Oleksiak.  The 28-year-old stepped into a regular role in the top four for the first time in his career and responded with arguably his best NHL season, notching 14 points while logging over 20 minutes a game.  He's not the fastest of skaters – few his size are – but Oleksiak is a capable stay-at-home defender and may be starting to show some offensive potential as well, scoring six goals during the season after notching five last postseason.  There was trade interest in him at the deadline and given his age and improvement, he should be able to land a bit more than the $2.5MM salary he received this year if he makes it to the open market.
F Andrew Cogliano – In his prime, Cogliano was a speedy two-way forward.  However, in recent years, the production has tailed off for the 34-year-old who is basically just a checker now.  There is still a market for those types of players but it will have to come at a much lower price tag than the $3.25MM he made over each of the past three seasons.  Half of that may be tough to get, even.
D Sami Vatanen – This was a tough season for Vatanen, to put it lightly.  After not getting much interest in free agency, he opted to go back to New Jersey in the hopes of building his value back up.  It didn't happen.  Instead, he dropped to the third pairing, didn't produce much (six points in 30 games isn't great for a blueliner known for some timely offense), and wound up being waived after they couldn't find a trade taker for him.  That's what got Vatanen to Dallas where he did even less.  After taking less than half of his previous contract for this season (from $4.875MM to $2MM), another cut is coming for the 30-year-old.
Other UFAs: G Landon Bow, F Justin Dowling, D Taylor Fedun, D/F Mark Pysyk
Projected Cap Space
The Stars currently have a little over $15MM in cap space with 16 players signed.  That's not a bad spot to be in although more than half of that will go to Heiskanen if they can get any sort of medium or long-term deal in place.  If that happens, they'll basically be filling out the rest of the roster with cheap contracts and basically be at the Upper Limit.  Barring trades, it could be a quiet summer for Dallas.
Photo courtesy of USA Today Sports Images.  Contract information courtesy of CapFriendly.