Over the last few weeks, we have been breaking down each team's situation as it pertains to the 2021 NHL Expansion Draft. Which players are eligible, who will likely warrant protection, and which ones may be on the block to avoid the risk of losing them for nothing? Each team is required to submit their protection lists by 4:00 PM CDT on July 17th. The full eligibility rules can be found here, while CapFriendly has an expansion tool to make your own lists.
The last time the Calgary Flames faced an expansion draft, they had an ace up their sleeve. Deryk Engelland was a pending unrestricted free agent, coming off a three-year deal with the team. He was 35 and on the back end of his career though, meaning there was no guarantee Calgary would even be interested in retaining him. It didn't matter, as Engelland was also a Las Vegas local, having played there during his minor league career and fallen in love with the city. The Golden Knights would sign him to a one-year, $1MM deal (with performance bonuses) and use him as an unofficial captain, helping the other players transition to life in the desert.
This year, interestingly enough, the team has another veteran free agent from the expansion area (okay, Spokane's not exactly Seattle, is it?) in Derek Ryan. Can they pull off the same trick twice? Or will the Flames actually lose a piece of their roster this time?
Eligible Players (Non-UFA)
Forwards: 
Matthew Tkachuk, Johnny Gaudreau, Sean Monahan, Mikael Backlund, Milan Lucic (NMC), Elias Lindholm, Andrew Mangiapane, Dillon Dube, Matthew Phillips, Byron Froese, Glenn Gawdin, Justin Kirkland, Dominik Simon
Defense:
Mark Giordano, Noah Hanifin, Rasmus Andersson, Chris Tanev, Oliver Kylington
Goalies:
Jacob Markstrom (NMC), Tyler Parsons
Notable Unrestricted Free Agents
F Derek Ryan, F Josh Leivo, D Michael Stone, G Louis Domingue
Notable Exemptions
F Adam Ruzicka, D Juuso Valimaki, D Connor Mackey
Key Decisions
The Flames only really have one tough decision when it comes to the draft, and that's what to do on defense. Hanifin, Andersson and Tanev are all the logical choices to protect, given their importance to the franchise and contract status. All three are signed through at least 2024, with Andersson even longer than that. If the Flames go that route though, what happens to captain Giordano? The 37-year-old defenseman is still signed for next season, carries a $6.75MM cap hit and could potentially be a player to help market the Kraken in their first year.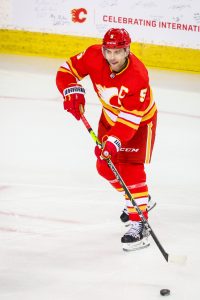 We're only two years removed from seeing Giordano win the Norris Trophy after scoring 74 points in 78 games, and though that offense has declined, he's still a legitimate top-four option that could potentially even wear the "C" in Seattle. There is an argument to be made that the Flames could use his cap space elsewhere this season, but it seems like terrible asset management to let Giordano go for nothing at this point. There would surely be a team at the trade deadline interested in paying up for his services, and even with his limited no-trade clause (Giordano lists 19 teams he's willing to be traded to), the Flames could likely get quite a haul.
So then, as with any team looking at four defensemen worth protecting, the Flames must consider the eight-skater protection strategy. Unfortunately in this case, unless they make several trades, that seems unwise. Tkachuk, Gaudreau, Monahan, Lindholm, Backlund, Dube, and Mangiapane are all easy selections to be protected, with any one of them a likely Seattle target if left exposed. One factor upfront could be Lucic's no-movement clause, but the veteran winger has already publicly stated that he's happy to waive it if it helps the club.
With those seven forwards all likely more important than Giordano to the long-term health of the franchise, it's hard to see a scenario where the Flames protect their captain. That is of course unless a side deal is made with Seattle or a separate trade in the next few days.  For now, it appears as though he will be the one left available.
In net, there's really no decision to be made. Markstrom holds the no-movement clause and would be the easy choice for protection even if he didn't. Despite his struggles this season, he's locked in as the team's starter.
Projected Protection List
F Matthew Tkachuk
F Johnny Gaudreau
F Sean Monahan
F Mikael Backlund
F Elias Lindholm
F Andrew Mangiapane
F Dillon Dube
D Noah Hanifin
D Rasmus Andersson
D Chris Tanev
Assuming Lucic waives his NMC*
Skater Exposure Requirement Checklist
When Vegas had their expansion draft, a minimum of two forwards and one defenseman had to be exposed that were under contract and played either 40 games in the most recent season or 70 over the past two combined.  Due to the pandemic, those thresholds have been changed to 27 games played in 2020-21 or 54 in 2019/20 and 2020-21 combined.  In creating our expansion list for each team in this series, we will ensure that these criteria are met.
Forwards (1): Milan Lucic
Defensemen (1): Mark Giordano
One thing for the Flames to do over the next week is fill their exposure requirements, as only Lucic meets them at this point if the top seven forwards are all protected. A new contract for Ryan, Leivo, Ritchie, or Simon would do it, or a trade for another player that is signed through next season and meets the games player requirement. Time is getting short though, so perhaps the Flames have something else planned for their protection strategy.
On defense, Giordano meets the requirement but he's the only one, meaning if they ever wanted to protect all four key defensemen they'd need to sign someone else. In net, extending Parsons a qualifying offer is all that is required.
Photo courtesy of USA Today Sports Images.  Contract information courtesy of CapFriendly.