Over the last few weeks, we have been breaking down each team's situation as it pertains to the 2021 NHL Expansion Draft. Which players are eligible, who will likely warrant protection, and which ones may be on the block to avoid the risk of losing them for nothing? Each team is required to submit their protection lists by 4:00 PM CDT on July 17th. The full eligibility rules can be found here, while CapFriendly has an expansion tool to make your own lists.
When the Buffalo Sabres last faced an expansion draft, they were coming off a last-place finish in the Atlantic Division and didn't have a ton of high-end talent to protect. Names like Tyler Ennis and Johan Larsson ended up being protected over a little-known rookie named William Carrier, who would go on to become a fan favorite in Vegas. The 6'2″ Carrier is an absolute wrecking ball on the ice and has racked up 734 hits in his 214 regular season games with the Golden Knights. Though the team will obviously try to avoid making the same mistake, there are some interesting decisions to be made in Buffalo this time around.
Eligible Players (Non-UFA)
Forwards: 
Jack Eichel, Jeff Skinner (NMC), Kyle Okposo, Sam Reinhart, Victor Olofsson, Cody Eakin, Zemgus Girgensons, Anders Bjork, Tage Thompson, Casey Mittelstadt, Rasmus Asplund, Andrew Oglevie
Defense:
Rasmus Ristolainen, Colin Miller, Rasmus Dahlin, Henri Jokiharju, William Borgen
Goalies:
Notable Unrestricted Free Agents
F Drake Caggiula, F Tobias Rieder, D Jake McCabe, G Linus Ullmark, G Carter Hutton
Notable Exemptions
F Arttu Ruotsalainen, F Dylan Cozens, G Ukko-Pekka Luukkonen
Key Decisions
This expansion primer could be made obsolete at any moment, given the offseason that is about to start in Buffalo. The team has had extensive trade talks about Eichel, Reinhart and Ristolainen, three players who were once considered building blocks for the franchise. If any of them are moved before the draft, things could be drastically altered.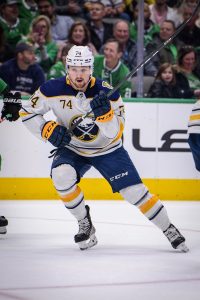 But if things stay the same for the next few days? There are some tough decisions to make.
At forward, Eichel, Reinhart, Mittelstadt and Olofsson are easy choices for protection. Skinner's no-movement clause makes him a must-protect, even though the Sabres would obviously like to leave him exposed. That leaves just two spots for the trio of Thompson, Bjork and Asplund, who have all shown flashes of high-end NHL potential but have lacked consistency. The 23-year-old Thompson has spent the most time in Buffalo, arriving from the St. Louis Blues in 2018 and playing 104 games with the team. He signed a three-year, $4.2MM deal in 2020 and registered 14 points in 38 games this season. There are a lot of questions surrounding Thompson's game, but the 6'7″ forward will still likely get at least one more kick at the can in Buffalo, so protection is warranted.
For Bjork, things aren't so dissimilar. He came in the Taylor Hall trade this season and is signed through the 2022-23 season on a three-year, $4.8MM deal. He had six points in 15 games after arriving in Buffalo and it would be hard to watch him snatched up by Seattle just a few months after arriving in such a major trade.
That leaves Asplund on the outside looking in, but who knows if Seattle would even have any interest. The 23-year-old has registered eight goals and 14 points in 57 career games, splitting this season between Buffalo, Rochester and Sweden. There is real offensive potential in Asplund, but as a restricted free agent without a ton of experience under his belt, might be passed over without much attention anyway.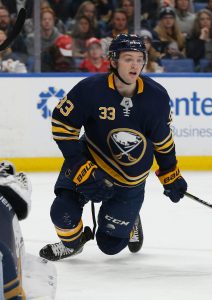 On defense, Dahlin leads the way as an obvious choice, but things are a little cloudier after that. Jokiharju likely deserves protection after showing some signs of improvement late in the season, but he was also a huge disappointment early on. His lack of development was a huge problem for the Sabres this season, even if he is still definitely young enough to continue to improve.
It's the third spot that becomes completely unclear at this point, given that Ristolainen is still on the roster. The team appears to have an NHL-ready replacement in Borgen, but he has just 14 games of experience under his belt to this point. Leaving Ristolainen unprotected would essentially be handing a valuable asset over to Seattle, even if his time with the Sabres organization has come to an end. A trade makes sense, but as of now Ristolainen is still on the roster and needs that final protection spot.
One thing to point out is that Buffalo spent a sixth-round pick last expansion draft to protect an extra goaltender, keeping Vegas away from Ullmark while protecting future Golden Knight Robin Lehner. This time they don't have anything to worry about in the goaltending situation with no one even signed, but perhaps they could do something similar to protect Asplund or Borgen, if necessary. There's also the possibility that the Kraken decide to sign one of Buffalo's free agents, namely Ullmark, if they believe him to be the most valuable option. The team has a short window before the draft to negotiate with pending UFAs, but it would count as their selection from the Sabres. Unlike some of the other free agents around the league, there's no expansion issue stopping Buffalo from re-signing their starter—in fact, they don't even have a goaltender under contract to protect at all, since Tokarski must be left exposed to fill the requirements.
Projected Protection List
F Jack Eichel
F Jeff Skinner (NMC)
F Sam Reinhart
F Victor Olofsson
F Tage Thompson
F Casey Mittelstadt
F Anders Bjork
D Rasmus Ristolainen
D Rasmus Dahlin
D Henri Jokiharju
G (none)
Skater Exposure Requirement Checklist
When Vegas had their expansion draft, a minimum of two forwards and one defenseman had to be exposed that were under contract and played either 40 games in the most recent season or 70 over the past two combined.  Due to the pandemic, those thresholds have been changed to 27 games played in 2020-21 or 54 in 2019/20 and 2020-21 combined.  In creating our expansion list for each team in this series, we will ensure that these criteria are met.
Forwards (3): Kyle Okposo, Cody Eakin, Zemgus Girgensons
Defensemen (1): Colin Miller
The Sabres are fine for their protection requirements, though Miller's exposure does post an interesting option for the Kraken. He of course was the Golden Knights' selection from the Boston Bruins last time around, and ended up netting Vegas a second and fifth-round pick from Buffalo after putting up some big numbers in increased minutes. At just 28, is it unthinkable that the Kraken could try to pull off a similar trick with the right-shot defenseman, pulling him out of the struggling Sabres shadow and giving him prime offensive minutes on an expansion roster?
Photo courtesy of USA Today Sports Images.  Contract information courtesy of CapFriendly.