With Tuukka Rask out for a good chunk of next season after major surgery and Jaroslav Halak now in Vancouver, the Boston Bruins have brought in a new goaltender. Linus Ullmark has signed with the Bruins, leaving the Buffalo Sabres after a long negotiation that stretched all the way into free agency. Ullmark's new deal with Boston will be a four-year contract worth a total of $20MM.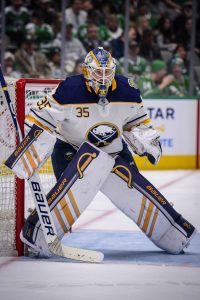 Beyond the financial increase, which is significant, Ullmark gets a huge competitive upgrade in terms of the team that will be in front of him on a nightly basis. Through the first six seasons of his NHL career, he had been backstopping a Buffalo team that never once finished above .500 or made the playoffs. Despite all that losing for the Sabres in general, Ullmark's results have actually been relatively strong, posting a 50-47-13 record in his 117 appearances. This season he was responsible for nine of the team's 15 wins, despite only appearing in 20 games due to injury. He had a .917 during those limited outings, slightly higher than his career .912.
The gamble here by the Bruins is that behind a better structure, Ullmark will not only turn into a viable starting goaltender, but an elite one. The team has committed to a $5MM cap hit through 2024-25, actually tied the 12th-highest among goaltenders in league-wide. Robin Lehner, for instance, signed a five-year $25MM deal less than a year ago coming off two seasons where he finished in the top-6 of Vezina Trophy voting.
Lehner is actually an interesting comparison for Ullmark, because he was the Sabres goaltender that once blocked Ullmark's path to the NHL. After posting a .916 over 133 games with Buffalo, Lehner immediately broke out after going to a stronger defensive team. He had a .930 in 2018-19 with the New York Islanders, winning the Jennings Trophy and finishing as a Vezina finalist. The numbers between the two during their time in Buffalo are eerily similar, so it makes sense that the Bruins would be hoping for a similar transformation.
Still, Lehner left Buffalo (under admittedly different circumstances) and received just one year and $1.5MM on the open market, essentially having to prove himself all over again with the Islanders. Committing this much money to Ullmark already is certainly a risk for the Bruins. It also begs the question of what will happen when Tuukka Rask is healthy enough to play again, as the assumption was that he would sign with Boston after rehabbing his hip injury. With Ullmark and Jeremy Swayman in place, the team should have enough goaltending to compete. If either one falters, the franchise icon could join the team midseason and help, but if they don't, it's unclear where Rask's future lies.
Photo courtesy of USA Today Sports Images