The Vegas Golden Knights will be without Alex Tuch for the first part of the season, after the winger underwent successful shoulder surgery. Tuch is expected to make a full recovery but has been given a recovery timeline of six months.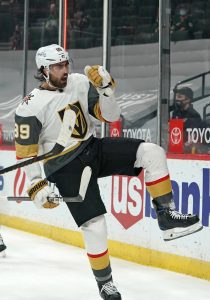 News like this is a double-edged sword for Vegas fans. On the one hand, it's a terrible loss to have Tuch missing for the first chunk of the season, as he's grown into one of their most valuable forwards and a bargain at $4.75MM. On the other, the team was already over the cap and still needed to sign restricted free agent Nolan Patrick (and likely add another depth defenseman). Tuch's injury will hurt, but it also allows the team to become cap compliant by moving him to long-term injured reserve, something GM Kelly McCrimmon directly referenced in his media availability today.
Still, it's difficult to replace a player like Tuch, who brings a blend of size and speed that is rarely found in the NHL. The 25-year-old forward posted 18 goals and 33 points in 55 games this season, despite playing most of the year outside of the top-six. His two most common linemates at even-strength were Nicolas Roy and Tomas Nosek, not exactly the players most associated with offensive production. Still, Tuch's 16 even-strength tallies were second on the team behind only Max Pacioretty (18), showing just how important he is to the overall success of the Golden Knights.
The Golden Knights did seemingly prepare for this over the last few days though, re-signing winger Mattias Janmark and acquiring Evgenii Dadonov from the Ottawa Senators. Dadonov may have had a bad season in 2020-21, but had previously scored at least 25 goals in three consecutive years. He should essentially replace Tuch for the time being, though obviously brings a different playstyle than the 6'4″ freight train.
Every time the Golden Knights have a player removed from the roster or add some cap flexibility, the immediate speculation goes to Jack Eichel and his ongoing trade saga in Buffalo. Speaking to reporters including David Schoen of the Las Vegas Review-Journal, McCrimmon explained that he thinks this is the roster they'll be going into training camp with, but noted that "anything can change with a phone call."
Photo courtesy of USA Today Sports Images