The Toronto Maple Leafs have brought back some veteran depth while also filling one of their expansion issues. Jason Spezza has re-signed with the team for the league minimum of $750K. The one-year deal always seemed like a sure thing between the two sides, given Spezza's desire to play in Toronto and his excellent performance this past season.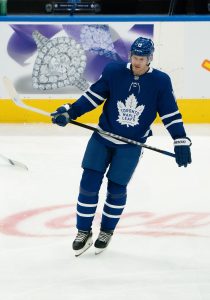 Not only does Spezza provide valuable scoring depth for the cap-strapped Maple Leafs, but the team also was facing a difficult expansion draft situation. Every team must expose at least two forwards that reach a games played requirement and are signed through next season. That was going to be tricky given so many expiring veteran contracts on the Maple Leafs roster, but Spezza will fill one of those slots. Of course, it could mean that the Kraken select him, but given the way his camp spread the idea of retirement the last time he was on waivers, Seattle would be taking a big risk.
Once thought to be on his way out of the league, Spezza has been rejuvenated in Toronto, scoring 55 points in 112 games. That production has come despite averaging fewer than 11 minutes per game, making the 38-year-old forward one of the best per-60 producers in the league. The fact that he added three goals and five points in the Maple Leafs' series against the Montreal Canadiens only endeared him more to the hometown crowd.
The former All-Star needs just 30 points next season to reach 1,000 for his career and will also likely climb into the top-100 for games played. While there is obvious doubt that he can keep this up forever, a one-year contract for this price comes with absolutely no risk.
Photo courtesy of USA Today Sports Images