There were plenty of questions to get to in this edition of the PHR Mailbag.  Topics include Rick Tocchet's coaching candidacy, expansion rules, a possible fit for Philadelphia's back end, Jack Eichel's future, the coaching search in Buffalo, Toronto's past GM move, the recent Rasmus Ristolainen to New Jersey rumor, the offseason ahead for Columbus and Calgary, and a Boston free agent scenario.  If your question doesn't appear here, watch for it in next weekend's mailbag.
pitmanrich: What has Rick Tocchet done in his head coaching career to warrant the interviews he's had so far? (Rangers, Columbus, and Seattle.) His teams regularly miss the playoffs, he's got an overall losing record, am I missing something? Surely there are more deserving coaches out there.
I am a little surprised that Tocchet has had the interest he has since parting ways with Arizona.  As you note, his track record wasn't great with Tampa Bay or Arizona; a 178-200-60 record over six seasons with one bubble playoff appearance isn't inspiring on the surface.
However, his reputation is that of being a good communicator and that is something that teams are showing more and more interest in.  The days of one approach fits all are dwindling fast and in both of his head coaching stints, Tocchet was lauded for how he can relate to players.  The same was said for his time as an assistant which helped him get that opportunity with the Coyotes.
It's also worth noting that he's coming from an environment that has leaned heavy on analytics.  Seattle appears to be a team that's highly investing on that front so someone like Tocchet that is familiar with some of those concepts would be a bit more appealing.  And considering he has now had three interviews with them per Sportsnet's Elliotte Friedman (Twitter link), he has to be considered as a legitimate contender for that position.
If you're a team that's looking for experience but don't want one of the 'old school' veterans like Mike Babcock, Claude Julien, John Tortorella, or Bruce Boudreau (to name a few), Tocchet is in that next range.  He has a different reputation than those bench bosses but still has a fair bit of experience – six years as a head coach and six more as an assistant.  That's typically enough to garner some interviews.  If he doesn't wind up with one of the remaining vacancies, he will undoubtedly come up as a strong candidate to take over a team midseason or next summer as a result.
mz90gu: How many games does an RFA have to play to be ineligible to be picked by the Kraken?
Free agency status doesn't actually have an impact here.  Any unsigned draft pick or players with two years or less on an NHL contract are exempt while everyone else is eligible.  If you're thinking about the games played criterion we've been citing in our Expansion Primer series, at least two signed forwards and one signed defenseman must have played either 27 games this season or 54 over the past two years combined.
However, players that have been signed for more than two years that haven't played that many games are still eligible for selection; it doesn't exempt them.  Teams merely have to expose that many players under contract.  As long as they've been under contract for longer than two seasons, restricted free agents are eligible to be picked by the Kraken.
Black Ace57: Is there any way to make a Seth Jones to the Flyers trade work?
It depends on how hesitant Columbus GM Jarmo Kekalainen is on trading a core player within the division.  If he doesn't want to send a top defender to a division rival, that's pretty much the end of that idea.  But that's not very fun for a mailbag answer, is it?
On the surface, Jones isn't a great fit considering that the Flyers have pretty good depth on the left side.  But it stands to reason that some of that depth would probably need to go the other way.  I don't see Ivan Provorov being available in this scenario but Travis Sanheim is the type of player that should be of some interest to the Blue Jackets, a young defender with a couple of years of team control left.  That'd be an interesting piece.
I also wonder if they'd be open to moving Morgan Frost who hasn't pushed his way into a regular role just yet.  A lot depends on if they can get extensions done for Claude Giroux and Sean Couturier; if they got them done early, Frost would potentially be expendable.  With the Blue Jackets' situation down the middle, Frost would be of some interest.
Is that enough to get a trade done?  Perhaps not but that should be a reasonable starting point.  I suspect that they're not looking for long-term future talent and instead would prefer guys that are ready now or close to being ready.  A rebuild is on the horizon but I don't think they plan to go deep enough into one where a first-rounder that's four or five years away fits the timeline.
We saw Carolina give Dougie Hamilton permission to talk to teams early about a sign-and-trade.  Jones is in a bit of a different situation in that he has one more year left at $5.4MM but since he doesn't want to entertain an extension, he's heading for an eventual exit.  If an extended Jones brought a better return, it would be prudent for Kekalainen to at least explore that option.
Busta607: Malkin and a 1st round pick for Eichel?
jeffh: What are the chances of the Ducks landing Eichel? I feel like they have the assets, but will them not being willing to move Zegras or Drysdale remove the possibility?
Also, who do you think the Ducks go for if they don't land Eichel?
Let's combine the Eichel questions together.  For the Pittsburgh proposal, there are a couple of hiccups.  The first is that is that they don't have a first-round pick this year, particularly an early one which seems to be the expectation.  The second is that Evgeni Malkin has a no-move clause and there's no reason for him to waive it to go to a bottom-feeder in the Eastern Conference.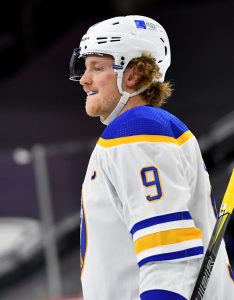 On top of that, Malkin is only a year away from free agency and turns 35 next month.  Is that what a rebuilding team should be trading their franchise forward for?  Pittsburgh isn't a great fit for Eichel; he'll be heading somewhere else.
As for Anaheim, they definitely seem to be in the mix and have the high first-round pick (third overall) that gives them an edge on other potential suitors.  It will be difficult to do it with Jamie Drysdale or Trevor Zegras but that first rounder should yield a similar caliber of player if they're willing to part with it.  If not, I don't think they have much of a chance.  There are some other young pieces that should still have some value as a secondary element (Sam Steel, Isac Lundestrom, and Max Jones come to mind) and then some cap ballast (someone like Adam Henrique at $5.825MM).  If that third pick is in play, they have to be considered one of the contenders for Eichel.
As for who else they might go after?  It's a pretty broad list – basically anyone that can score.  Anaheim needs several top-six upgrades and they're not in a position to be too selective.  If a top-six player is available, they'll be inquiring.
sabres3277: At this point, the Sabres coaching search seems to be centered on keeping Don Granato or hiring former Ranger coach David Quinn. Any thoughts on what direction they should take?? It is desperation time in Buffalo.
I don't think either would necessarily be a bad choice given their situation.  Let's face it, the Sabres aren't looking for someone who is magically going to turn things around.  At least, they shouldn't be.  They're no closer to becoming contenders than they were years ago.  There are pieces in place but one of them looks like he's about to be moved and it's unlikely they'll want win-now players in return.  What they need is someone that can raise the floor for the group and work on individual skill development.  A few years from now when they're ready to contend (if all goes well), they'd probably be looking for that win-now coach at the same time.
Granato did a nice job down the stretch but it has to come with the caveat that it came at the end of the year when the games were meaningless.  Quinn, meanwhile, had some good moments with the Rangers but it's telling that several of their youngsters didn't progress as much as they would have hoped which is part of the reason they missed the playoffs and he's on the look for another job.  That might be a bit of a red flag but he had success in college developing young players so that has to be kept in mind as well.  I'd lean towards Granato but I think Quinn would certainly help their program as well.
KAR 120C: When comparing Lou Lamoriello to Kyle Dubas, was it a mistake for Toronto to try new analytics versus old experience?  Considering where the Islanders are and the Leafs are not.
I can't say it was a huge mistake based on analytics.  Not every team can be built the same way and who knows, a couple of years from now, the tide could have shifted drastically towards skill and they'll be sitting pretty while the Isles are languishing a bit.
For me, the biggest difference would have been salary cap management.  I can't see Lamoriello giving any of Toronto's top-four forwards the contracts they have now, ones that are viewed as more player-friendly.  I think John Tavares wouldn't have been signed and the savings between that and cheaper short-term contracts for the other three would have given them the cap flexibility to bolster their back end and lengthen out their forward corps.  In hindsight, that might have given them a better shot at playoff success than what they've had since then.  To me, that's a bigger issue than the usage of analytics.
Having said that, it's also important to keep in mind that other teams were sniffing around Dubas; he wasn't going to stay an assistant GM for much longer.  Lamoriello's GM contract was up and he was 75 at the time.  Dubas was 32.  Mark Hunter was also in the mix as well at the time.  From an asset management standpoint, the safer play was to keep the up-and-coming executive which is what they did.
JoeBad34TD: How true are the rumors that the Devils are interested in Rasmus Ristolainen Right-Hand D, and what could the Sabres get in Return?  (I would love to see Miles Wood as part of a deal.)
Both Lance Lysowski of The Buffalo News and Sportsnet's Elliotte Friedman have reported there's something to that rumor so I see no reason to say there's nothing there.  It's certainly an odd fit on the surface, however, as New Jersey already has P.K. Subban and Damon Severson on the right side and both are top-four defenders.  Adding a third pushes one down and greatly improves the third pairing but it's a short-term fix with Subban and Ristolainen both being unrestricted free agents next summer.  Perhaps they want to see if Ristolainen could be Subban's long-term replacement but can they get Ristolainen to agree to an extension?
The answer to that question determines the answer of what they could get in return.  An extended Ristolainen is worth more than a rental at this time of the offseason.  I would think Will Butcher would be in there for money reasons and as far as a change of scenery candidate goes, he's a good one that could rebound on a new team.  I don't think they'd part with Wood for a rental, however.  The second piece would be a younger forward (someone like Nolan Foote) and probably a draft pick.  That's not a great return but he's a disgruntled rental; the Sabres aren't in the drivers' seat here.
While I believe that there have been talks, I'm not sure Ristolainen is the right fit for New Jersey and with the year he had, I wouldn't be surprised if those talks were focused on buying low, not paying full value for him.  And with Ristolainen wanting to go to a winning program, I don't see him turning down a shot at free agency to join a team that has spun its wheels in recent years as well.
@CinnamonTroll2: What the hell will the #CBJ accomplish this off-season?  Will fans be pleased, satisfied, or disappointed?
I don't think it's going to be a fun summer for the Blue Jackets.  I get the promotion of Brad Larsen to the head coaching position under the same principle I just went over for Buffalo.  He's not the coach of the future when they're in contention but rather the one that helps players develop to get them to that point.  He knows the players and the program.  It's underwhelming but it works.
From a personnel perspective, the word underwhelming also comes to mind.  One of their goalies probably needs to go as both Elvis Merzlikins and Joonas Korpisalo want to be number ones which means one of them is walking in free agency a year from now.  But goalies rarely yield sizable returns in trades.  They're going to go after a top center as they have for years but Buffalo seems to want to move Eichel out West.  Maybe another becomes available in a trade but having gone all in a couple of years ago, the cupboard isn't overly deep to deal from.  They'll have the money to add in free agency which could give them a small leg up but knowing they're in for some struggles, that may not be as helpful as you might hope.  The hope was that Patrik Laine would be a long-term solution but with the year he had, it feels like a one-year deal is on the horizon to see if a new coach changes things.
Long story short, I'll go with the latter of your three options.  I expect it'll be a tough summer in Columbus.
wreckage: Do the Flames actually break up their core and trade a significant piece this offseason or just "retool" again?
I don't see how GM Brad Treliving can get away with tweaking around the edges again.  Yes, Jacob Markstrom was a big addition last fall and I think he'll be better next year but this is a core that is decent but not good enough to do much damage.  Darryl Sutter's hiring was supposed to light a fire under the Flames but they were still mediocre, just a bit better defensively along the way.  Improved play in their own end is all well and good but that's not putting them over the top.
That said, I don't expect a lot of changes to be made either as this isn't a situation where they want to just swap long-term fixtures for the sake of making a change.  I could see Johnny Gaudreau being moved if they can't work out an extension and we know Sean Monahan is in play already.  One of them moving seems like a reasonable expectation at the very least.  That alone won't drastically shake things up but it would be a good starting point.
SkidRowe: If the Bruins pass on both Hall and Krejci, who should they acquire via UFA or trade to replace them?  What surprising names might be available this offseason due to cap constraints?
First off, I don't see them passing on both Taylor Hall and David Krejci.  At this point, I think both of them re-sign; there's mutual interest for new deals for both of them.  Krejci will be taking a pay cut and while Hall will cost more against the cap for Boston next year than he did this season (Buffalo retained half of his $8MM price tag), the savings from Krejci should cover most (if not all) of that.
But let's say they don't come back in this scenario.  I could see them taking runs at Gabriel Landeskog and Phillip Danault if they make it to the open market.  Landeskog in more of a support role works under the same idea that Hall does while Danault's addition would take some defensive pressure off Patrice Bergeron.  Danault won't score a lot of points but it's not a great UFA market for centers out there and he's the best of the group.  They could also take that money and try to add on the left side of the back end although it's not a great UFA market on that front either.
Tampa Bay will have to move a couple of forwards this summer which has players like Ondrej Palat and Alex Killorn (players with only partial trade restrictions) on the bubble.  If Vegas keeps both goalies and wants to retain Alec Martinez, Jonathan Marchessault could be in play.  Knowing that San Jose can't move their defensemen to free up money and that Timo Meier has an ugly qualifying offer coming in two years, I wouldn't be shocked if he was in trade speculation at some point.
But to get back to your original point, I don't think it comes to that for Boston.  I suspect they'll get deals for Hall and Krejci done and will bring this core back with the biggest change coming between the pipes with Tuukka Rask being a free agent and injured for at least the first half of next season.
Photo courtesy of USA Today Sports Images.