The offseason has arrived with roughly half of the league missing the playoffs and several more having since been eliminated.  It's time to examine what those teams need to accomplish over the coming months.  Next up is a look at the Rangers.
A year ago, it looked as if the rebuild for the Rangers was basically over or had at least been expedited.  Artemi Panarin and Jacob Trouba were added and a strong performance down the stretch provided optimism for the future before Carolina swept them in the Qualifying Round in the bubble.  Even so, there was plenty of optimism heading into the season but the results weren't there.  The result was a house cleaning with Chris Drury taking over as GM and Gerard Gallant recently being named head coach.  While those are big items off their checklist, there is still some work to be done.
Round Out Coaching Staff
While they have Gallant in the fold, the coaching staff still needs some work.  Goalie coach Benoit Allaire was retained and, well, that's it for the current staff.  David Oliver, Jacques Martin, and Greg Brown were also all let go when David Quinn was fired last month and will need to be replaced.  Kris Knoblauch could be a candidate to join the staff on a full-time basis; the AHL Hartford bench boss filled in for six games for Quinn this season while he was in COVID-19 protocols.
Center Decisions
New York appears to be set between the pipes for the foreseeable future.  They have several young blueliners in the pipeline, headlined by K'Andre Miller who had a strong rookie season.  They're well-set on the wings with Panarin plus recent high first-round picks in Alexis Lafreniere and Kaapo Kakko; Chris Kreider is also signed long-term.
The pipeline isn't anywhere near as well-stocked when it comes to the center position, however.  Filip Chytil showed some progression this season but at this point, he looks more like a third-line option than a top-six piece of the future.  Brett Howden was a first-rounder back in 2016 but is going to be more of a role player than a core one.  Morgan Barron certainly has some upside but they're certainly not ready to proclaim him as a top-six center of the future either.  It's an area that needs to be addressed and it's a big one.
It's not something that necessarily has to be addressed this year but the clock is ticking.  Mika Zibanejad and Ryan Strome, their current top pivots, are both a year away from unrestricted free agency with Zibanejad looking like a candidate to land a considerable raise on his current $5.35MM AAV.  Strome, meanwhile, has 108 points in 126 games over the last two seasons.  While he has an earned reputation of being inconsistent, that's still an impressive recent track record and if he has another year like that, he will also be looking at a raise on his $4.5MM price tag.
It seems likely that Drury will at least investigate the cost of signing Zibanejad to a long-term extension while Strome's file may be left a little longer to see how next year starts out.  However, if they wind up landing a top-line pivot, that player is going to be expensive.  As their youngsters move past their entry-level deals, can they afford to pay Zibanejad market value to play on their second line?  It'd be a great luxury to have but in this cap environment, it might be one that they can't afford.
In the meantime, expect the Rangers to be speculatively linked to every impact center that happens to become available (such as Buffalo's Jack Eichel).  The supporting cast is in place and this is the one key piece they need to take another step forward.  With their group of young roster players, they will also be in a position where they could move one or two of those in a move and still be in good shape.  Of course, that's the easy part of the equation.  Finding the impact center is the much more challenging one with that task now falling to Drury.
Re-Sign Key RFAs
There are several restricted free agents that Drury will need to re-sign but two stand out among the pack for very different reasons.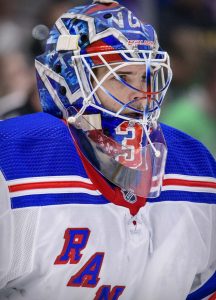 The first is goaltender Igor Shesterkin.  His entry-level contract has come to an end and he has quickly established himself as New York's starter.  Having said that, he has all of 47 career NHL games under his belt which is less than a single season's worth for most number ones.  That's not a particularly large sample size and his standout KHL numbers don't mean a whole lot in terms of impacting contract talks.
On top of that, he's 25 and has salary arbitration eligibility.  With Shesterkin only being two years away from UFA eligibility, it's not an ideal spot for a bridge contract; while most players coming off their first contracts have four years of team control remaining, New York has half of that.  Meanwhile, if early talks don't go well, Shesterkin could simply file for arbitration, return as the starter, and then be a year away from being unrestricted next summer where he'll have even more leverage in talks.  A long-term deal is almost certainly New York's goal but it may be tricky to come by.
The other RFA of note is Pavel Buchnevich.  Over his first few years in the league, he showed some offensive flashes but struggled at times as well.  However, in 2019-20, the combination of him, Zibanejad, and Kreider broke out and Buchnevich responded with a career year with 46 points in 68 games.  He then did even better this season with 48 points in just 54 contests.  That's top line production which is certain to be mentioned in contract talks as the 26-year-old goes through restricted free agency with arbitration eligibility for the final time.  He will undoubtedly get more than his $3.5MM qualifying offer but at the same time, are the Rangers prepared to commit to him long term or could he be deemed expendable knowing that Lafreniere and Kakko are in the wings?  The contract is one thing while who gives it to him could very well be another question altogether.
Part Ways With DeAngelo
While he was dismissed from the team early in the season, New York had to carry Anthony DeAngelo on the salary cap for the rest of the season (minus the pro-rated $1.075MM in savings after he cleared waivers and was sent to the taxi squad).  He has one year left on his contract, one that carries a $4.8MM AAV along with a $5.3MM salary.  Drury may first try to find a taker in a trade first in a swap of expiring contracts but with how cheap his buyout would be, they shouldn't look too closely at that option.  Since DeAngelo is 25, the buyout ratio is one-third instead of two-thirds.  Accordingly, the cap charge would only be $383K next season and $883K after that.  DeAngelo turned down a contract termination at the trade deadline but it's all but a lock that he'll be released this summer when the buyout window opens up after the Stanley Cup Final.
Photo courtesy of USA Today Sports Images.  Contract information courtesy of CapFriendly.