Over the next few weeks, we will be breaking down each team's situation as it pertains to the 2021 NHL Expansion Draft. Which players are eligible, who will likely warrant protection, and which ones may be on the block to avoid the risk of losing them for nothing? Each team is required to submit their protection lists by 4:00 PM CDT on July 17th. The full eligibility rules can be found here while CapFriendly has an expansion tool to make your own lists.
The Jets had a bit of an up-and-down season as they went from battling for the top spot in the North Division to backing into the playoffs.  Then they went from sweeping Edmonton in the first round to being swept by Montreal in the second round.  GM Kevin Cheveldayoff will have some decisions to make this summer as a result including a couple of calls to make in terms of their expansion planning.  In the Vegas draft, they traded down 11 spots in the first round to secure the protections of Marko Dano and Toby Enstrom.  Will they need to make another protection trade this time around?
Eligible Players (Non-UFA)
Forwards:
Mason Appleton, Kyle Connor, Andrew Copp, Marko Dano, Pierre-Luc Dubois, Nikolaj Ehlers, Jansen Harkins, Bryan Little, Adam Lowry, Skyler McKenzie, Mark Scheifele, Ivan Telegin, Blake Wheeler (NMC)
Defense:
Nathan Beaulieu, Dylan DeMelo, Luke Green, Josh Morrissey, Sami Niku, Nelson Nogier, Neal Pionk, Logan Stanley
Goalies:
Mikhail Berdin, Connor Hellebuyck, Cole Kehler
Notable Unrestricted Free Agents
D Jordie Benn, G Laurent Brossoit, D Derek Forbort, F Mathieu Perreault, D Tucker Poolman, F Paul Stastny, F Nate Thompson, F Dominic Toninato
Notable Exemptions
F David Gustafsson, D Ville Heinola, F Cole Perfetti, D Dylan Samberg, F Kristian Vesalainen
Key Decisions
There is some intrigue on the back end for Winnipeg.  There are certainly more than three players worthy of protection but at the same time, there is no case to make to shift from the typical 7 F/3 D/1 G strategy to eight skaters and a goalie.
In terms of the obvious ones to protect, it's Pionk and Morrissey.  Those two logged heavy minutes all season while contributing a good chunk of their offensive production.  Morrissey is already signed long-term through 2028 and it seems likely at this point that Cheveldayoff will try to get Pionk, who is arbitration-eligible for the first time, locked up to a long-term deal as well.  That leaves one spot for everyone else.
DeMelo's absence was certainly felt after exiting the series quickly against the Canadiens.  While he doesn't put up many points or even log a lot of minutes, he is a stabilizing defensive presence and penalty killer on a defense corps that is often shaky in their own zone.  That's why they handed him a four-year, $12MM contract last fall and it's unlikely their opinion of him has changed much in the last nine months; he's clearly someone that they want around for a while.  But having said that, in this cap environment, would a $3MM AAV for someone who typically plays third-pairing minutes be enough to scare Seattle off to the point where not protecting him could be viable?
That question is what they will be considering when it comes to Stanley.  The 23-year-old just made his NHL debut this season but he has been on an NHL contract for three years, making him eligible for selection.  The 2016 first-round pick (16th overall) had a limited role but blueliners often develop slower than forwards and given his size, the learning curve was a bit steeper.  If they believe he's capable of playing himself into a more prominent role over the next couple of years, it would be tough to risk losing him for nothing.  And from Kraken GM Ron Francis' perspective, Stanley is exactly the type of young player to either take a flyer on to develop or to flip in another trade.
Beaulieu and Niku are also worth a mention.  Beaulieu has been serviceable on the third pairing for the last few years and with a $1.25MM cap hit, he's someone that could be picked and flipped.  Niku dominated in the AHL in 2017-18 with 54 points in 76 games and was productive in shorter stints the last couple of years.  However, he hasn't had much of an NHL opportunity yet and is someone that has been a prime change of scenery candidate for a while.  His $725K cap hit will also be below the NHL minimum salary next season ($750K) which could also be appealing.
Up front, Little looked like someone who would likely be protected just a couple of years ago but he hasn't played since suffering a perforated eardrum back in November of 2019.  While his injury hasn't been confirmed to be career-ending, that could still change which could render him exempt from selection.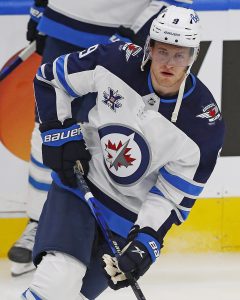 Their other top-six forwards that are under contract should be locks for protection and after Lowry inked a five-year, $16.25MM extension back in April, it's a safe assumption that one of the remaining slots will be his.  That leaves one spot left and a couple of viable options in Lowry's linemates on Winnipeg's third line.
Copp had shown flashes of offensive improvement over the previous few seasons but took that to another level this year, setting career highs in goals (15), assists (24), points (39), and ATOI (18:15).  Whenever injuries struck, Copp was often the one to move up in the lineup while playing the wing or down the middle when needed.  That type of versatile player is critical for teams to have and while he's set to earn a raise from his $2.3MM qualifying offer in restricted free agency this summer in his final season of arbitration eligibility, it's a price that Winnipeg (or Seattle, if he's ultimately made available) would happily be willing to pay.
The other part of that third trio is Appleton whose track record isn't quite as long.  The 25-year-old was a full-time NHL player for the first time this season and he was fairly productive in a limited role, notching 12 goals and 13 assists in 56 games.  Of those 25 points, all but one came at even strength (and the one special teams point was a power play assist).  Five-on-five scoring is always highly coveted and the early indication is that Appleton is a capable contributor in that regard.  He also only has a $900K cap hit through next season and productive low-cost depth is hard to come by.  Being only able to protect one of Copp or Appleton will hurt.
Projected Protection List
F Kyle Connor
F Andrew Copp
F Pierre-Luc Dubois
F Nikolaj Ehlers
F Adam Lowry
F Mark Scheifele
F Blake Wheeler (NMC)
D Dylan DeMelo
D Josh Morrissey
D Neal Pionk
Skater Exposure Requirement Checklist
When Vegas had their expansion draft, a minimum of two forwards and one defenseman had to be exposed that were under contract and played either 40 games in the most recent season or 70 over the past two combined.  Due to the pandemic, those thresholds have been changed to 27 games played in 2020-21 or 54 in 2019/20 and 2020-21 combined.  In creating our expansion list for each team in this series, we will ensure that these criteria are met.
Forwards (2): Mason Appleton, Jansen Harkins
Defensemen (2): Nathan Beaulieu, Logan Stanley
While some teams will be losing veteran talent, it certainly feels like Winnipeg will be losing one of their younger regulars as their roster currently stands.  Appleton looks like a promising late-bloomer and after being viewed as a potential bust, Stanley took an important step forward in his development this season and should be part of their future plans now.  Is that enough for Cheveldayoff to make another side deal?  He has roughly six weeks to make that decision.
Photo courtesy of USA Today Sports Images.  Contract information courtesy of CapFriendly.