Over the next few weeks, we will be breaking down each team's situation as it pertains to the 2021 NHL Expansion Draft. Which players are eligible, who will likely warrant protection, and which ones may be on the block to avoid the risk of losing them for nothing? Each team is required to submit their protection lists by 4:00 PM CDT on July 17th. The full eligibility rules can be found here, while CapFriendly has an expansion tool to make your own lists.
Expansion wasn't too kind to Washington last time as they lost Nate Schmidt to Vegas and he quickly went from a depth defender to a key part of their back end for three seasons before cap constraints necessitated a move to Vancouver.  While rosters can still change in the next six weeks, it certainly appears as if the Capitals will be losing another notable piece to the Kraken next month.
Eligible Players (Non-UFA)
Forwards:
Nicklas Backstrom (NMC), Nic Dowd, Lars Eller, Shane Gersich, Carl Hagelin, Garnet Hathaway, Axel Jonsson-Fjallby, Evgeny Kuznetsov, Beck Malenstyn, Anthony Mantha, T.J. Oshie, Garrett Pilon, Brian Pinho, Conor Sheary, Daniel Sprong, Tom Wilson
Defense:
John Carlson, Brenden Dillon, Nick Jensen, Lucas Johansen, Michal Kempny, Dmitry Orlov, Justin Schultz, Trevor van Riemsdyk
Goalies:
Pheonix Copley, Zach Fucale, Ilya Samsonov, Vitek Vanecek
Notable Unrestricted Free Agents
G Craig Anderson, F Daniel Carr, D Zdeno Chara, G Henrik Lundqvist, F Alex Ovechkin, F Michael Raffl
Notable Exemptions
D Alexander Alexeyev, D Martin Fehervary, F Hendrix Lapierre, F Connor McMichael
Key Decisions
Since Seattle was unveiled as the 32nd NHL franchise, there has been plenty of speculation about Oshie, who was raised just north of there.  Wouldn't it be something if a hometown player became the first-ever captain of the franchise?  And hey, clearing his $5.75MM AAV through 2025 off the books would give the Capitals some much-needed cap flexibility.  However, he certainly doesn't want to go and GM Brian MacLellan has indicated that he wants Oshie back as well.  Let's not forget that he was one of their top scorers this season and they're a team that wants to win now.  It's possible that he could be left unprotected due to his contract to allow them to protect a bubble forward but with other viable options to choose from, he doesn't seem to be the strongest of candidates to be picked.
Let's dig into those bubble forwards.  Wingers Hagelin and Hathaway appear to be safe bets to be left unprotected as their price tags are a little high for the roles they provide and for a team in need of cap space, they're not going to protect a role player making more than they'd get on the open market.  Eller makes a little more than most third line centers but with plenty of uncertainty surrounding Kuznetsov's future with the team (he appears to be a prime candidate to be traded), it's hard to see them letting their insurance policy in Eller go.
That leaves a trio of forwards to ponder in Sheary, Sprong, and Dowd.  Sheary had a respectable 14 goals in 53 games this season and recently signed a two-year contract with a $1.5MM cap hit, a more than reasonable price tag.  However, Sprong had 13 goals in 42 games and will have an AAV below the league minimum next season.  He's also five years younger than Sheary but has bounced around already in his career and had limited usage in the playoffs.  Then there'd Dowd, their fourth-line center for the past three years.  He had 11 goals in 56 games this season, won over 56% of his faceoffs, and is signed for the league minimum.  There's a lot of value in that contract.  Only one can be kept, however.
Having said that, it might not matter which one gets protected as in the end, their other positions appear to be riper for the picking.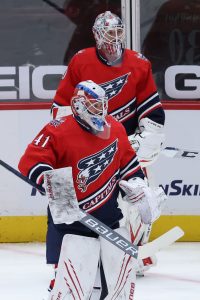 Heading into the season, Samsonov looked like a lock to be protected.  However, injuries and COVID-19 limited him to just 19 regular season appearances where he didn't play particularly well, notching just a .902 SV%.  On the other hand, he has been their goalie of the future since he was picked 22nd overall in 2015 and his rookie season showed plenty of promise.  There is definitely still some upside to the 24-year-old who is a pending restricted free agent.
Still, Samsonov's struggles opened the door for Vanecek who went from having no NHL experience this season to their de facto starter where he performed a little better than Samsonov did (a .908 SV% with an identical 2.69 GAA).  It's also worth noting that he's also signed at a cap hit that's below the league minimum next season.  Even to Seattle, a team that probably won't go right to the Upper Limit right away, that carries a lot of value.
Unlike skaters, there is no alternate protection scheme that allows a team to protect multiple goaltenders.  Barring a side agreement, one of them has to be made available and whichever one is left exposed becomes an immediate contender to be selected.
There is an interesting decision that needs to be made on the back end as well.  Carlson and Orlov are locks to be protected but that only leaves one slot for several capable defenders.
Schultz was one of the bigger surprise signings last fall when he got a two-year, $8MM contract despite a tough year with Pittsburgh.  To his credit, he bounced back nicely with 27 points in 46 games which is decent value for an offensive defender.  On a back end that doesn't have a lot of offensive pop beyond Carlson and Orlov, losing him would definitely hurt.
But while Dillon doesn't provide much on the scoresheet, he brings a lot of physicality and defensive acumen to the table which earned him a four-year, $15.6MM deal after impressing in his short stint upon being acquired as a rental at the trade deadline.  He brings a dimension that they were seeking for a while and with three years left, he's more likely to be part of their long-term plans over Schultz who will be unrestricted next summer.  But is $3.9MM too pricey for Seattle for a stay-at-home defender?
Kempny could have been in the mix for this final slot had he been healthy but injuries wiped out his entire season.  He should be ready for next season but after not playing this season, he's not a big risk to be selected.  Jensen is a contract they wouldn't mind unloading to free up some extra wiggle room but they'd need some incentive to take him and while van Riemsdyk has over 400 career games of experience (including the playoffs) and is signed for just $950K, it doesn't seem likely that he'll entice the Kraken either.
Projected Protection List
F Nicklas Backstrom (NMC)
F Lars Eller
F Evgeny Kuznetsov
F Anthony Mantha
F T.J. Oshie
F Conor Sheary
F Tom Wilson
D John Carlson
D Dmitry Orlov
D Justin Schultz
Skater Exposure Requirement Checklist
When Vegas had their expansion draft, a minimum of two forwards and one defenseman had to be exposed that were under contract and played either 40 games in the most recent season or 70 over the past two combined.  Due to the pandemic, those thresholds have been changed to 27 games played in 2020-21 or 54 in 2019/20 and 2020-21 combined.  In creating our expansion list for each team in this series, we will ensure that these criteria are met.
Forwards (4): Nic Dowd, Carl Hagelin, Garnet Hathaway, Daniel Sprong
Defensemen (4): Brenden Dillon, Nick Jensen, Michal Kempny, Trevor van Riemsdyk
There are definitely a couple of viable routes for Seattle to take here.  Dillon isn't flashy but is definitely dependable and would comfortably step into their top four for the foreseeable future.  But Vanecek is coming off a strong first NHL season and is cheap.  At least three goalies have to be picked by the Kraken and at a bare minimum, he'd be an intriguing pick-and-flip candidate.  He's also a restricted free agent at the end of next season so it's quite plausible for him to be viewed as part of their longer-term plans.  Seattle GM Ron Francis will have a tough decision to make but he will be landing a quality player from the Capitals either way.
Photo courtesy of USA Today Sports Images.  Contract information courtesy of CapFriendly.