The offseason has arrived for several teams that aren't playoff-bound with others set to join them in the coming days as they play out their rescheduled games.  With that in mind, it's time to begin our annual offseason series, beginning with Buffalo.
Optimism was high, or at least higher than normal, heading into the season for the Sabres.  The top forward in free agency in Taylor Hall signed a one-year, $8MM deal to try to showcase himself alongside Jack Eichel while bolstering their top line in the process while Eric Staal was brought in to anchor an improved second line.  That was the plan.  What actually occurred was basically the exact opposite.  Pretty much all of their veterans struggled mightily and things wound up going worse than they had in recent years.  That saw Ralph Krueger ousted as head coach in the middle of an 18-game winless streak and while they were a bit better down the stretch, GM Kevyn Adams enters his second offseason with an awful lot on his to-do list.  Here are some of the bigger ones.
Sign A Goalie Tandem
Forget simply searching for a starting goalie which is something that has been on the radar for a while given the uncertainty of Linus Ullmark's ability to take over the number one role.  Three years after letting Robin Lehner go, they hoped that Ullmark and veteran Carter Hutton would be able to work as a platoon.  That hasn't gone as well as they hoped and now both netminders are set to hit the UFA market this summer.
Hutton clearly won't be back but Ullmark's future is somewhat murky.  They weren't able to agree on a contract extension before the trade deadline but Adams opted to hold onto him and expressed some optimism that a deal could be reached.  But what's the right price tag?  He had a 2.67 GAA with a .917 SV% this season which are good numbers considering the team led the league in goals allowed but he only made 20 starts.  Ullmark hasn't made more than 37 appearances in a single NHL season.  That can't be spun as playing time for a starter or even the strong side of a platoon.  He's in line for a raise on the $2.6MM he made this year but top backups only make about $1MM more than that.  Is he willing to take that to stick around?
Of course, the fact that they want him to return also poses the question of what role they want him back for.  Do they think he's an above-average backup or, despite the relative inexperience, do they view him as a starter?  The answer to that determines what type of other goalie they pursue, either a proven number one or a similar backup to try the platoon again.  (And if he doesn't re-sign, they'll be looking for two goalies.)
Ukko-Pekka Luukkonen is the presumptive goalie of the future for Buffalo and while he didn't look out of place in a four-game stint late in the season, he's not ready to be a backup yet let alone a starter.  That also throws a wrinkle into Adams' planning.  If they think Luukkonen is a few years away from being their number one, do they look at a shorter-term platoon as a bridge?  And are top starters less inclined to sign there if Luukkonen is the guy down the road?
There are certainly a few factors in play but one way or another, Adams needs to sign a pair of goalies over the coming months.
Determine Eichel's Future
Jack Eichel has been in the news plenty since Monday following his end-of-season media availability where he expressed some frustration with how things have gone both on the ice and with regards to his medical situation.  Ending comments with a desire to get healthy and play "wherever that might be" isn't exactly a ringing endorsement of Buffalo and stings a bit harder as their captain and franchise player.
Can this be fixed?  At this point, they're clearly hoping that they can and what happens with regards to whether he can get the surgery on his neck will certainly be part of those talks.  If not, he's going to be in trade speculation all summer long.
Eichel has five years remaining on his contract with a $10MM AAV.  That will be difficult for teams to absorb but number one centers of his caliber rarely become available.  Cap space is hard to come by but he's the type of player that teams will find a way to make it work to bring him in, a task that will be made more difficult by the reality that getting Buffalo to retain on that contract for the next half-decade would be extremely difficult.
Also at play here is the fact that Eichel is a year away from having full control of where he could be moved to with a full no-move clause.  The number of suitors in the 2022 offseason would be much lower as a result so if they can't mend fences or sense that this discontent will be a lingering issue, the time to move him is this summer.  More specifically, before the start of free agency when creating cap space will become more difficult as players start signing.
While Adams is at it, similar decisions will need to be made of defenseman Rasmus Ristolainen and forward Sam Reinhart.  Both players have one year of team control remaining and didn't exactly give glowing endorsements in their interviews either.  Are they part of the long-term plans; are they willing to sign a multi-year deal?  If not, they may have to be on the move as well.
Re-Sign Dahlin
On top of all of this, the other intended franchise pillar in defenseman Rasmus Dahlin is also in need of a new contract as he enters restricted free agency.  Like pretty much everyone for Buffalo, this season was an abject disaster.  After recording 40 points in the pandemic-shortened 2019-20 season, expectations were understandably high that he could become one of the elite offensive blueliners which would have him extremely well-positioned to get a second deal similar to Florida's Aaron Ekblad ($7.5MM) or Ottawa's Thomas Chabot ($8MM).  Instead, he had just 23 points in 56 games along with an eye-popping -36 rating which stood out as the low outlier on a team full of poor minus ratings.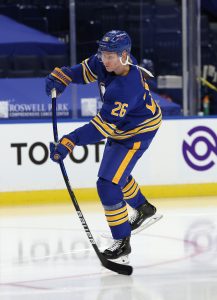 It's not all doom and gloom for the 2018 first-overall pick, however.  Dahlin still projects to be a key piece of Buffalo's rebuild, even if that gets extended by moving some of their veteran players over the next few months.  One of the decisions that Adams will have to make is whether or not to pursue a long-term contract or to work out a bridge deal that allows both sides to reassess his value down the road.
One of the challenges with a long-term pact that buys out some UFA eligibility is that Dahlin's value isn't what it was a summer ago when he could have signed an extension.  He may still be a big part of their plans but the season he had simply cannot have bolstered his asking price.  Accordingly, is he even willing to entertain a long-term deal now where he could be leaving some money on the table if he rebounds over the next couple of seasons?
With Dahlin not being eligible for salary arbitration, this one will probably be towards the back of the pile as it can be pushed until closer to training camp if it has to.  Even so, this is a significant item on their to-do list.
Coaching Decision
On top of needing a new goalie or two, dealing with the discontent of their star and other key veterans and having to re-sign one of their pillars on the back end, Adams has to make a call on who is going to coach the team or whatever is left of it by then.  Don Granato did a relatively nice job after taking over for Krueger despite the 9-16-3 record and helped get the Sabres out of their funk.  They surprised some playoff teams down the stretch.  Was that a matter of good coaching or teams playing looser when they're eliminated?  It's a question that many interim coaches have to go through when they take over for a non-playoff team midseason.
There were several veteran coaches on the market already before John Tortorella and Rick Tocchet were added in recent days.  There may be others that hit the market in the coming days as well.  There will be options and Adams has said he'll cast a wide net but they're hardly going to be the only team on the lookout as well with Columbus and Arizona already in need of new bench bosses as well.  Patience in finding the right fit is never a bad idea but with others that will be going after the top options, they may have to move quickly if they decide that Granato isn't the long-term solution.
Needless to say, there's an awful lot that Buffalo will need to get done between now and the start of next season.  It's going to be a fascinating offseason for them as a result.
Photo courtesy of USA Today Sports Images.