The Avalanche have added to their back end as they have acquired Patrik Nemeth from the Red Wings in exchange for a fourth-round pick in 2022.  Both teams have announced the trade.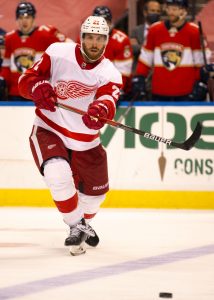 The 29-year-old is certainly familiar with Colorado as he spent two seasons with them in 2017-18 and 2018-19.  It was there that he had the best years of his career offensively (15 and 10 points, respectively) while he emerged as more of a physical presence in his second season, notching 137 hits.  That helped land him earn a two-year, $6MM deal with Detroit in the summer of 2019 with an eye on helping to stabilize their back end.  Colorado won't be assuming that full price tag, however, as Peter Baugh of The Athletic reports (Twitter link) that the Red Wings are retaining the maximum 50% (or $1.5MM) of Nemeth's deal.
In his first season with Detroit, Nemeth logged just over 22 minutes a night but his playing time has dipped notably this season down to 18:24 per night while notching two goals and six assists in 39 games.  However, he's still a physical player with an ability to kill penalties and block shots, elements the Avs haven't had as much of this season with Erik Johnson's lingering injury troubles and the early-season trade of Ian Cole to Minnesota.
It's likely that Nemeth will have even more of a limited role with the Avs as he figures to slot in on their third pairing.  But with him already familiar with the system, he should have more of a seamless transition into their lineup than most acquisitions would although he won't debut for a few more days as he's currently out with a hand injury.  As for Detroit, this is the first of their three allowable retained salary transactions, a number that may very well increase between now and Monday's trade deadline and they earn themselves a mid-round pick for doing so; they now have three fourth-round selections already in the 2022 NHL Entry Draft.
Photo courtesy of USA Today Sports Images.