The Toronto Maple Leafs have added some goaltending depth to the fold, acquiring David Rittich from the Calgary Flames in exchange for a 2022 third-round pick. Both teams have confirmed the move. The Flames will be retaining 50% of what remains on Rittich's $2.75MM cap hit.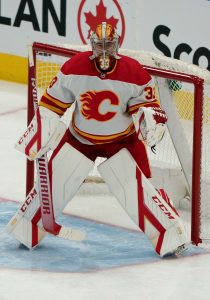 Toronto already swung a deal for Nick Foligno earlier today, meaning it's quite the active Sunday for GM Kyle Dubas. He's now bolstered his forward depth (the team also acquired injured center Riley Nash recently) and has added a goaltender to help out what has become an unclear situation in the Maple Leafs crease.
Frederik Andersen, who started the season as the team's no-doubt starter has struggled all season and is now dealing with a mysterious injury. He hasn't played since March 19 and in his absence, Jack Campbell has put his name forward as the team's better option. The 29-year-old Campbell is 11-0 so far on the season and has posted a .934 save percentage, giving the Maple Leafs steller goaltending on a nightly basis. With his injury history though, Toronto was in a precarious spot that could have forced Michael Hutchinson back into the crease.
With Rittich, the team is bringing in an experienced veteran, but one that has had a rocky season of his own. The 28-year-old goaltender is sitting on a .904 save percentage with the Flames so far, which actually isn't all that much worse than the .907 he put up last season. Perhaps Dubas is hoping for the goaltender who he has seen dominate in person, as Rittich holds a .929 in seven career appearances against the Maple Leafs.
While Rittich doesn't have much of a chance to unseat Campbell at this point, he does offer some extra depth for a Toronto team that is hoping to go on a long postseason run. What this means for Andersen's health isn't clear, but the team seems to be using up the extra cap space provided by moving him to long-term injured reserve. That would suggest he won't' be back before the end of the regular season, but at this point, nothing has been announced.
For the Flames, adding a third-round pick for the expiring contract of Rittich is a pretty substantial win, even if they did need to retain salary to do it. The team has their starter in Jacob Markstrom locked up and a capable backup already in Louis Domingue who has been recalled from the taxi squad with Artyom Zaigidulin being promoted to the taxi squad from AHL Stockton. Though they're not exactly out of the playoff race, the idea of this Flames team competing for the Stanley Cup is a distant one.
Photo courtesy of USA Today Sports Images