Are you ready for another Summer of Kovalchuk? The enigmatic Ilya Kovalchuk has terminated his contract with Avangard Omsk after winning the Gagarin Cup and hopes to return to the NHL once again.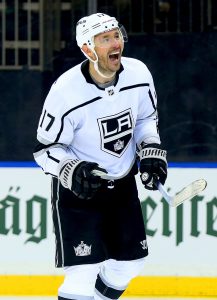 Now 38, it's hard to really have any idea what Kovalchuk can bring to an NHL lineup. During the 2019-20 season, he played for the Los Angeles Kings, Montreal Canadiens, and Washington Capitals, totaling 26 points in 46 games. That production came in very different ways. Kovalchuk struggled with the Kings to the point where the team told him to stay home, after recording nine points in 17 games but being a liability defensively. Then in Montreal, he seemed rejuvenated, scoring 13 points in 22 games and becoming a core piece of the team. When it was obvious that the Canadiens weren't going to contend for the Stanley Cup, Kovalchuk was flipped to the Capitals, where he had just one goal in seven regular season games and then was held to just a single assist in eight postseason contests.
This season for Avangard, he put up 17 points in 16 regular season games and then added nine more on their championship run. Would an NHL team be getting the engaged, hard-working player that appeared in Montreal or the disinterested veteran that was in Los Angeles? One thing is certain; Kovalchuk won't be getting anywhere near the three-year, $18.75MM contract he signed in 2018 with the Kings. If he wants to play again in the NHL, he very well may need to settle for the league minimum (which is increasing to $750K next season) and hope a contender is willing to give him sheltered minutes and a powerplay role.
Though his stated goal has always been a Stanley Cup, Kovalchuk also could reach some milestones should he return for a full season in 2021-22. He is 74 games away from 1,000 in his NHL career, would need seven goals to reach 450 and 24 points to crack 900. Those all seem like reasonable amounts even at his age, should he stay healthy and involved.
There was a time that Kovalchuk was one of the most feared goal-scorers in the entire world. In the four seasons between 2005-2009, his 189 goals were more than anyone not named Alex Ovechkin. His 73 powerplay markers during the same period also trailed only Ovechkin. Even with that history, it's hard to know if any contender would really want to bring him back once again. The watch is on.
Photo courtesy of USA Today Sports Images