The Blues have been in a slump for the last month.  They've lost seven straight and 12 of their last 14 games and as a result, they've gone from a team that's in a playoff spot in the West Division to one that is tied for fifth with San Jose and now sit five points behind Arizona for fourth place.  As a result, Pierre LeBrun notes in TSN's latest Insider Trading segment (video link) that Blues GM Doug Armstrong is indicating that he's open to moving some of his pending unrestricted free agents, highlighting winger Mike Hoffman and center Tyler Bozak as potential options to me.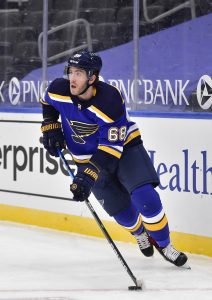 Hoffman is clearly the headliner of the two.  He was pegged to be one of the more highly sought-after players in free agency last fall but it took a long time for a market to materialize.  He ultimately settled on a PTO with the Blues with the framework of an agreement in place; the two sides worked out a one-year, $4MM pact just before the regular season got underway.  Unfortunately for him and St. Louis, it hasn't been the best of fits as the 31-year-old has just 21 points (9-12-21) in 36 games and was recently a healthy scratch.  For someone that had 65 goals over the previous two years, they were hoping for more from him.  On the other hand, that recent track record should generate some interest on the trade front in the coming days as well.
As for Bozak, he has had a limited role this season while also missing significant time due to a concussion.  As a result, he has been limited to just two goals and two assists in 14 games while averaging a career-low 13:14 per contest.  While he would serve as capable bottom-six depth, he also carries a $5MM AAV which, even if St. Louis pays up to half of it down, will limit his market considerably.
Jaden Schwartz is another pending unrestricted free agent but wasn't mentioned by LeBrun as a possible trade option.  The 28-year-old has been with St. Louis for his whole career spanning parts of 10 years and at this point, it's quite possible that the intent at this point is to try to work on a contract extension.  If that's the case, those discussions would logically need to intensify over the next few days.
Armstrong is no stranger to selling when his team has been hanging around the playoff race before.  He moved Kevin Shattenkirk four years ago when they were in a playoff spot and the following season, sent Paul Stastny to Winnipeg when they were only a point out.  With that in mind, even if they pick up a couple of wins by next week, the GM could still lean towards selling.  As teams that are looking to buy start honing in on their desired candidates, they'll now need to take a look at the Blues as well.
Photo courtesy of USA Today Sports Images.