Although we're less than three months into the season, the trade deadline is already just three weeks away.  Where does each team stand and what moves should they be looking to make?  We continue our look around the league with the New Jersey Devils.
The New Jersey Devils are near the bottom of the East Division in seventh place, only holding a significant lead over the struggling Buffalo Sabres. The team has been undergoing a solid rebuild and this trade deadline will be no different with several players likely available to be had. Last year, the Devils made quite a few successful deals, picking up an extra two first-rounders to add more talent to their young prospect pool. Expect more of the same this year.
Record
13-16-4, .448, 7th in East Division
Deadline Status
Seller
Deadline Cap Space
$22.7MM in full-season space ($36.67MM at the trade deadline), 0/3 retention slots used, 46/50 contracts used per CapFriendly
Upcoming Draft Picks
2021: NJ 1st, NYI 2nd, NJ 3rd, ARZ 3rd, NJ 4th, BUF 5th, NJ 6th, ARZ 7th
2022: NJ 1st, NJ 2nd, NJ 3rd, NJ 4th, NJ 5th, CLB 5th, NJ 6th, NJ 7th
Trade Chips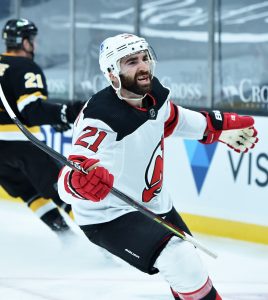 The biggest name on the trade list is veteran forward Kyle Palmieri, who will be an unrestricted free agent next season. While the team could consider inking Palmieri to a long-term extension, generally long-term deals for players 30 or older rarely work out and Palmieri just hit 30, suggesting that the team might be better off moving him. The winger has been a major piece to the team's core over the last six years and Palmieri has been as consistent as you can get, scoring at least 24 goals every season — except this one. This year has seen Palmieri's numbers slide as he has just seven goals and 16 points in 32 games. Some of that can be attributed to playing on a weak team. However there should be quite a few teams who might be willing to pay significantly to get their hands on Palmieri.
The Devils also have another forward who could be on his way out. The team traded for KHL star Nikita Gusev a year ago in hopes of adding an elite scorer to their team. The season didn't work out, but Gusev had a solid rookie campaign, scoring 13 goals and 44 points. However, things are different one year later. With a new head coach, Gusev's ice time has dropped more than a minute and the 28-year-old has just two goals and five points in 20 games. With one year remaining on his two-year deal, teams might be eager to bring in Gusev and hope he can spark their team's offense. At $4.5MM, that might be a costly gamble, but New Jersey has plenty of cap room to retain half that salary.
The Devils also have a number of solid defensemen who could find themselves moved at the trade deadline. The team has Ryan Murray, Dmitry Kulikov and Sami Vatanen available and all three likely could be had for middle-round draft picks. All three will be unrestricted free agents next season. Kulikov ($1.15MM) and Vatanen ($2MM) are both reasonably priced with Murray making $4.6MM for the remainder of the year. However, all could help contending teams with depth — something everyone is looking for for the stretch run.
Others to Watch For: F Andreas Johnsson, D P.K. Subban, F Miles Wood
Team Needs
1) Draft Picks – The team has coveted picks more than anything else over the last few years and would like to keep adding top-end picks. The Devils traded away their own second-rounder when it acquired Gusev from the Vegas Golden Knights and wouldn't mind getting more draft capital. Regardless, with a young core in place and developing around Jack Hughes, the more young talent it can add over the next couple of years will only strengthen the team's long-term success.
2) Young NHL-ready prospects — The team did pick up a few young players last season at the trade deadline, namely Janne Kuokkanen and Nolan Foote. Kuokkanen has been a pleasant surprise, while Foote has looked good in the AHL. The Devils wouldn't mind picking up a few more of those types of players who might be able to work their way onto the roster or add depth in their minor league team. With plenty of their young talent ready to develop, bringing in prospects who are close to contributing might be a better than just draft picks.