Although we're now just two months into the season, the trade deadline is less than a month away.  Where does each team stand and what moves should they be looking to make?  We continue our look around the league with the Detroit Red Wings.
A new division hasn't yielded new results for the Red Wings as a year after finishing last in the Atlantic Division, they sit last in the Central with no real hope at a playoff spot.  It has been a tough rebuild for Detroit over the past few years and coming into next month's deadline, GM Steve Yzerman's focus will undoubtedly be on adding more future assets to the organization.  Their time to return to postseason contention will come but it won't be this season.
Record
9-17-4, 8th in Central Division
Deadline Status
Seller
Deadline Cap Space
$19.59MM in full-season space ($39.19MM at the trade deadline), 0/3 retention slots used, 46/50 contracts used per CapFriendly.
Upcoming Draft Picks
2021: DET 1st, DET 2nd, EDM 2nd, NYR 2nd, DET 3rd, VGK 3rd, DET 4th, DET 5th, DET 6th
2022: DET 1st, DET 2nd, DET 3rd, DET 4th, VGK 4th, DET 5th, DET 6th, DET 7th
Trade Chips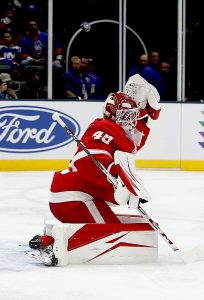 Jonathan Bernier has been a decent goaltender for Detroit over the past few seasons.  While the overall defensive numbers haven't been pretty, the 32-year-old has more than held his own between the pipes and actually had a save percentage above the league average heading into play on Thursday.  Goaltenders don't typically move at this time of year but there are a handful of teams that could certainly benefit from an upgraded second option and Bernier may very well be at the top of the wish list.  His $3MM cap hit may be a bit tricky to navigate for some of those teams but with no retention slots used yet, Yzerman could pay the contract down to facilitate a move.  This is, of course, assuming his lower-body injury sustained in tonight's game against Dallas isn't too serious.
While goalies aren't often in demand, one position that teams always look to upgrade on is the fourth line center.  The goal is to get someone who can help the penalty kill and win faceoffs.  That's the basic description of Luke Glendening right there; he doesn't bring much more than those two elements but is good enough at what he does (including leading the league in faceoff percentage) to carve out a lineup spot.  He's a bit pricey for that role at $1.8MM but again, Detroit can pay up to half of that and there should be several teams interested in his services.
Marc Staal had been viewed as a contract that would be tough to get out of; the Rangers had to part with their second-rounder this year to get the Red Wings to take him on.  But he is still a decent defender in his own end and is someone that would fit much better on a contender on the third pairing than he does with Detroit.  At $5.7MM, no one will bite but if they retain and/or take a sizable expiring contract back, there should be some interest.  Patrik Nemeth ($3MM) also falls into this category for teams that don't have as much financial wiggle room to work with.
It hasn't quite been the offensive resurgence that he was hoping for but Bobby Ryan has showed some good moments this season while playing in Detroit's top six.  With 13 points in 27 games, he'd represent an upgrade for some teams in their bottom six and at a $1MM price tag, he's certainly affordable as well; this isn't a contract that they should need to provide some sort of salary offset for.
Others to Watch For: F Adam Erne (997K, RFA), F Sam Gagner ($850K, UFA), F Vladislav Namestnikov ($2MM through 2021-22)
Team Needs
1) Picks and Prospects – Yzerman doesn't necessarily need to overthink things here.  The Red Wings have several veteran players who can fill small roles on contenders but none of the players mentioned above are going to bring back significant assets.  Instead, they can simply stockpile draft picks and prospects.  With this year's draft not being moved and being such a wild card in terms of some prospects hardly playing, 2021 selections represent intriguing lottery chips; later selections (which is what most of the veterans would bring back) might be a bit more valuable as a result.
2) Core Players – There are some building blocks in place (though some of those have struggled considerably this season) but for a team that isn't going anywhere, it's a bit of an older group.  Some of those veterans will be replaced by prospects but with the cap room that Detroit has, there's room to try to add a couple of core players that can be around long enough to help shepherd them through the tough times and into the playoffs.  The time for those types of moves may very well be the offseason but given the financial pressures some teams have now, Yzerman would be wise to see if there's an opportunity to pounce before then.
Photo courtesy of USA Today Sports Images.