Although we're not even two months into the season, the trade deadline is just over a month away.  Where does each team stand and what moves should they be looking to make?  We continue our look around the league with the Boston Bruins.
The Boston Bruins are a team that fell just short of a Stanley Cup Championship two years ago and the franchise is eager to get back and try to win it again this year. While the team has an interesting mixture of veterans and youth, many of Boston's top players are getting older and time is slowly running out for them to earn themselves another title. Regardless, to compete at that top level, the Bruins will have to address some holes in their lineup.
Record
13-5-3, 3rd in East Division
Deadline Status
Buyers
Deadline Cap Space
$2,893,498 in full-season cap space, 1/3 retention slots used, 46/50 contracts used per CapFriendly.
Upcoming Draft Picks
2021: BOS 1st, BOS 2nd, BOS 3rd, BOS 4th, BOS 5th, BOS 6th, BOS 7th, TOR 7th
2022: BOS 1st, BOS 2nd, BOS 3rd, BOS 4th, BOS 5th, BOS 6th, BOS 7th
Trade Chips
The most likely common trade chip for the Bruins is their first-round pick. The team has picked just once in the last three years as they have moved their 2018 first-rounder to the New York Rangers in a package for Rick Nash. The team also sent their 2020 first-rounder to Anaheim along with the contract of David Backes to get forward Ondrej Kase. The team has that option again as they will likely draft late, although considering the draft is considered weaker than most, that pick may not be worth as much either.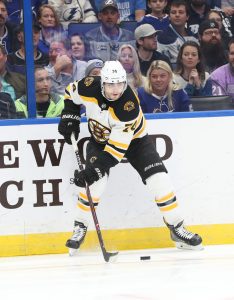 One possibility is the status of Jake Debrusk, who has struggled this year, could find himself on the trade market as someone who could be swapped for another forward. Debrusk, who scored 27 goals in 2018-19 and 19 goals in a shortened 2019-20, has just one goal and five points in 16 games, emphasizing his struggles. However, the problem is that teams won't be trading top value for the 24-year-old, which could be an issue for the team depending on offers. On top of that, Debrusk will be making $4.85MM in base salary next season, another thing few playoff teams may be willing to deal with. However, Debrusk could be a big piece if the team hopes to make a big trade before the deadline.
One other possibility, though the Bruins would probably prefer to avoid it, but Trent Frederic could be a potential trade chip as well. The young forward has fared well in his rookie campaign and added some grit to Boston's lineup. Of course, the offense may take more time to develop as he has just three goals this season. However, while Boston would prefer to hang on to him, Boston could be forced to include the young center if they team is trying to pry away a big name.
Others to watch for: F John Beecher, F Ondrej Kase.
Team Needs
1) Top-four defenseman – The Bruins have been ravaged by injury to their blueline with Kevan Miller and Jeremy Lauzon on injured reserve. Brandon Carlo is out week-to-week after taking a massive hit from Washington's Tom Wilson. Zdeno Chara is now in Washington and the team is left with some questionable options on defense. At the moment, the team is using Jarred Tinordi and Urho Vaakanainen as their third pairing, which is something they weren't anticipating at the beginning of the year. Don't be surprised if the team looks at some of the big defensive names on the trade market.
2) More scoring — One of the biggest trouble the Bruins have had over the years is getting production out of their middle-six as those lines have struggled and little has changed. Nick Ritchie leads that middle six with eight goals this year, followed by five for Charlie Coyle and four for Craig Smith. No one else has more than three goals. That's something the team may want to add if the team has the cap space and the assets to pull that off.
Photo courtesy of USA Today Sports Images