If any goalie-needing contenders were watching today, Pekka Rinne put on quite a show. In a match that the Nashville Predators seemed destined to lose, down several key players against the defending Stanley Cup champion Tampa Bay Lightning, Rinne stopped 38 of 39 shots en route to a 4-1 victory. The 38-year-old seemed to turn back the clock and showed why he was a Vezina winner not so long ago.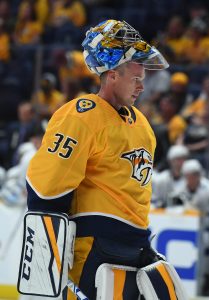 But if he has it his way, Rinne won't be going anywhere at the deadline. The goaltender told Adam Vingan of The Athletic that despite a long Cup-less career to this point and Nashville struggling this season, he wants to retire a Predator. The veteran goaltender was listed as an "untouchable" by Elliotte Friedman of Sportsnet last month and the team does not want to move him, according to Vingan.
Right now, they don't really have a choice, given Juuse Saros is out dealing with an injury and there aren't any other goaltenders in the system with real experience. But seeing Rinne go anywhere else before he hangs up his skates certainly wouldn't seem right, given what he has accomplished for the Predators organization.
Debuting with the team in the 2005-06 season, Rinne's rise to NHL starting goaltender is something of legend these days. GM David Poile spent an eighth-round pick on the goaltender after scout Janne Kekalainen convinced him of his upside, despite such few viewings. By the 2008-09 season, he was the team's starter and never looked back. He now sits 32nd in all-time games played and 20th in wins.
All of those have come in a Predators uniform and that doesn't appear to be changing.