The Nashville Predators won't have some key players in the lineup for the next while. Ryan Ellis has been placed on injured reserve with an upper-body injury and will be out for the next four to six weeks. Luke Kunin will join him on IR with a lower-body injury and is out for two to four weeks. Ryan Johansen, who only made it back from IR a week ago himself, is now in the league's COVID Protocol. The team has recalled Tanner Jeannot, Mathieu Olivier, Eeli Tolvanen, and Alexandre Carrier from the taxi squad.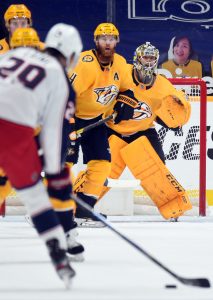 Ellis, 30, carries a heavy load for the Predators every night, averaging nearly 25 minutes a game this season. He has just nine points in 21 games—a slight step down from the incredible pace he set last season with 38 in 49—but incredibly, that actually ties him for third on the team. Nashville has received almost no offensive contribution from half their lineup, with Filip Forsberg the only forward who has generated points on a regular basis. Losing Ellis means losing one of the team's best players at both ends of the rink.
Kunin certainly can't claim to be one of the team's best, as his early tenure in Nashville has been one of disappointment. After posting 15 goals and 31 points in 63 games last season for the Minnesota Wild, he has just five points in 17 games for the Predators and has seen his minutes vary wildly. Overall, his contribution hasn't been what the team expected when they dealt Nick Bonino and a pair of draft picks for him last fall. The fact that he'll now miss at least two weeks in a shortened season certainly won't help the team squeeze out any excess value.
Johansen of course has been an even bigger disappointment, if only because of what he costs the Predators against the cap. The $8MM center hasn't scored a goal this season and has just five points through 14 games, though his possession metrics have been strong when he's in the lineup. The fact that Johansen hasn't broken the 15-goal mark since getting to Nashville is a big reason why the team's offense has never seemed quite up to snuff, given that he had 59 goals in the two seasons before being acquired. It's not clear at all how long he will be on the COVID Protocol list, but that zero will remain in the goal column for now.
The Predators have won their last two games but still sit at 10-11-0 on the year and now have to deal with the absence of Ellis for at least a month. Rumors had already begun to swirl about the fact that they may be sellers at the deadline and this news certainly won't put an end to them. The team is set to face the Carolina Hurricanes tonight before starting a two-game series against the division-leading Florida Panthers on Thursday evening.
Photo courtesy of USA Today Sports Images