After Eric Staal was dealt from the Buffalo Sabres earlier today for a moderate return (if that), hockey fans all across the country rushed to CapFriendly to see what else might be included in the team's fire sale. Top of the list is a former Hart Trophy winner in Taylor Hall, who will certainly command a lot of attention as the deadline draws near.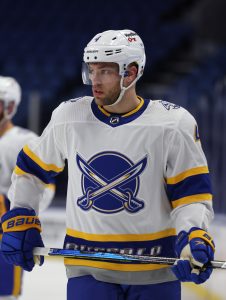 Earlier today, Darren Dreger of TSN tweeted that Buffalo GM Kevyn Adams has spoken to multiple teams about a Hall trade and now we may know what he was saying. Pierre LeBrun of The Athletic reports that the initial asking price for Hall involves a first-round pick, though the insider suggests it will be difficult to even get that at this point. Staal only landed the team a third-round pick and a fifth-round pick, even with Buffalo retaining half of his already relatively low cap hit. That retention will likely have to happen for Hall too regardless of where he goes, given how expensive his one-year deal is.
The 29-year-old inked a one-year, $8MM deal with Buffalo in the offseason as a chance to play top-line minutes next to Jack Eichel and build his value back up after a disappointing season, but his time with the Sabres has done anything but that. In 32 games, Hall has just two goals and 17 points, numbers that really only compare favorably to depth forwards, not top talent. In fact, Staal even had more goals than him (3) in the same amount of games, and has the added benefit of experience and a Stanley Cup championship.
So really what is Hall worth? He has only reached the playoffs twice in his career, and though that 2017-18 Hart campaign was outstanding, now has just 69 points in his last two seasons combined (97 GP). Remember too that he has only reached those lofty MVP-type totals on two occasions, recording 65 points or fewer in nine of his 11 seasons because of injury or inconsistency.
There is also the debate on what a first-round pick is even worth this season, given how much uncertainty surrounds the scouting profession. Teams haven't had multiple extended looks at many of the top prospects, meaning the spread of draft talent could be even wider this time around. Perhaps that's why Buffalo was happy to take mid-round picks for Staal, hoping to hit on a prospect that falls due to limited exposure, but that would be relying on their relatively small scouting department to identify things that others miss.
At the very least, the Staal trade has indicated two things. One, the reduced quarantine on players traveling to Canadian teams has opened the market, and two, waiving a no-trade clause to get out of Buffalo doesn't seem like such an obstacle. Greg Wyshynski of ESPN confirmed that Staal did have the Canadiens on his no-trade list, but he agreed to the deal anyway. Louis Jean of TVA Sports adds some more context, tweeting that the Canadiens "didn't need to convince Staal" to waive the clause—certainly a bit of an indictment of the Sabres current situation. Hall also holds the cards in that situation with a full no-movement clause, but it is hard to see him blocking any deal to a contender after 16 straight losses in Buffalo.
Photo courtesy of USA Today Sports Images