After several other general managers around the league have recently spoken to the media to deflect pressure from their players and coaching staffs, Buffalo Sabres executive Kevyn Adams announced a press conference today to do the same thing. The presser was not to announce anything in particular, as Adams instead just answered questions. Right away, the Buffalo GM made one thing clear: Jack Eichel has not requested a trade.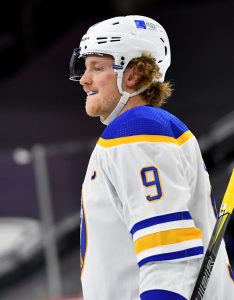 It is surprising it even came to this point for the Sabres, who added Taylor Hall and Eric Staal in the offseason in an effort to compete for the playoffs. With Eichel and other young pieces like Rasmus Dahlin, Victor Olofsson and Sam Reinhart, the Sabres were supposed to be on the upswing. Instead, the team has crumbled, losing their last five and compiling a 6-12-3 record through their first 21 games of the season.
A big part of that terrible record is the play of Eichel, Hall and expensive winger Jeff Skinner, who have combined for just two even-strength goals (and four total). Those three combine for a $27MM cap hit, a huge number for any team, let alone one that's just trying to pull itself out of the basement. Those struggles have led to plenty of speculation about Eichel, who is quickly approaching 400 games in his career without ever sniffing the postseason.
Recently, Eichel was put second on The Athletic's Trade Deadline Big Board, with one league executive even suggesting that he was "going to end up a New York Ranger" at some point in the future. Adams today downplayed his captain's availability, once again explaining that he isn't looking to trade one of, in his words, "the best players in the world." On the idea that he solicited offers in the offseason, Adams just said that he listened if people called, as he would with any other player.
Even though his goal totals are down, Eichel does still have 16 points in 19 games for the Sabres, tied for the most on the team with Reinhart and Olofsson. There's no one doubting his ability as a top player, but since he's making $10MM per season and wears the "C", the target will continually be placed on his back. The 24-year-old has shown clear frustration in the past when his team continued to lose, and his trade availability is a story that isn't going anywhere–even if he hasn't requested one yet.
Photo courtesy of USA Today Sports Images