The Nashville Predators are now 6-9 on the season and have a goal differential of -16. That last number is third-worst in the NHL, ahead of only the Detroit Red Wings and Ottawa Senators, meaning the Predators might actually be lucky to have the wins they do. It's no surprise that trade speculation has started to swirl around the team with The Athletic's Adam Vignan examining the potential return for five players should Nashville decide to sell.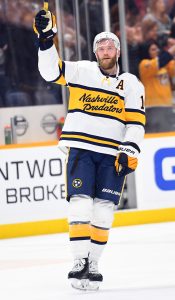 The top name on that list is Mattias Ekholm, and while it might seem unlikely that the Predators would part with the top-four defenseman at first glance, that won't stop teams from calling. Vignan was told by one scout that Ekholm "would draw a lot of interest" and colleague Pierre LeBrun expanded on that idea on TSN's Insider Trading:
There's a more intriguing name when I talk to teams around the league that they hope will be on the market—and I think there is an absolute solid chance that the Predators at least listen— top-four defenseman Mattias Ekholm, who has been a long-standing member of that organization.
LeBrun does explain that the smoke around Ekholm's name could be the Predators just testing the market to gauge potential returns, but if he does hit the market you can bet there would be plenty of teams intrigued.
Ekholm recently suffered a lower-body injury and is listed as week-to-week for the Predators.
The first thing that pops off the page when considering Ekholm has to be his contract, which carries a $3.75MM cap hit through the end of next season. That number is affordable (if not downright cheap) considering versatile Ekholm has been throughout his career. Now 30, he's played in 550 career games and posted at least 33 points in four of the last five seasons. In 2018-19, Ekholm even finished tenth in Norris Trophy voting after setting a career-high of 44 points in 80 games.
An all-situations contributor, pretty much every team in the league could plug him in somewhere to help their playoff chances. The fact that you would get him for an additional season would only be more valuable. Comparisons were made by both Vignan and LeBrun to Jake Muzzin and Alec Martinez, two other top-four defensemen traded in recent years with some term left on their deals.
In 2019, Muzzin cost the Toronto Maple Leafs a first-round pick and two prospects. He came with a $4MM cap hit and another year on his deal, which was ultimately extended even further by Toronto. Last year, Martinez was acquired by the Vegas Golden Knights for two second-round picks. He too had an extra year on his deal and carries a $4MM cap hit.
Photo courtesy of USA Today Sports Images