The Edmonton Oilers really only have three forwards they can count on to produce offense right now. Connor McDavid, Leon Draisaitl, and Ryan Nugent-Hopkins. Those three have combined for 24 of the team's 60 goals this season, with the rest of the forward group only accounting for 23 (the defense has totaled 13, led by Darnell Nurse's six).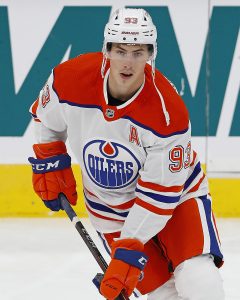 The first two of that trio are locked up long-term, earning huge salaries and winning plenty of individual awards. But Nugent-Hopkins, he's on the final year of his current contract and will be an unrestricted free agent this summer. That contract was actually a seven-year extension worth $42MM, signed in the fall of 2013 before his entry-level deal had even expired. Since it kicked in, the 2011 first-overall pick has recorded 324 points in 439 games, making the playoffs just once.
Still, Nugent-Hopkins is a huge part of this Oilers team. His transition to wing and budding chemistry with Connor McDavid makes him a valuable piece, but as Ryan Rishaug of TSN reports there have still not been any contract talks between Edmonton and the Nugent-Hopkins camp since before the season began. Rishaug does note that both player and organization have expressed a desire to stay together long-term, but so far, nothing has been worked out.
As much as it seems like the Oilers are a high-powered offense that just can't defend enough, it's not really the case. In both 2017-18 and 2018-19, they finished 20th in goals for. In the shortened season last year, they were 15th on a per-game rate. This season they're off to a better start, though the North Division defense might have something to do with that jump. Instead of a high-powered offense, it's really just a few outstanding players.
The question the Oilers will have to face is whether re-signing Nugent-Hopkins helps or hurts in the quest to change that. He certainly is a strong third option, but tying even more money up at the top of the roster could be difficult for a team that needs to improve throughout. Even in a depressed market, Nugent-Hopkins will likely secure more than $6MM per season, given he has 74 points in his last 82 games and will reach free agency at the age of 28.
Rishaug notes that "this is not an asset the organization would want to lose for nothing," implying that Nugent-Hopkins could be a trade candidate in the coming months if there's not a path to a new contract. It's certainly premature at this point to think he's on the way out, but it's a situation to keep an eye on as the April 12 trade deadline approaches.