Often, a big regulation win can calm the sea for a team that's trying to bail water from a sinking ship. The Buffalo Sabres got that kind of a win on Tuesday night when they dispatched the New Jersey Devils 4-1, but it took 41 saves from Linus Ullmark and there still wasn't a goal from their two top forwards. Their ankles, at least, still seem to be submerged.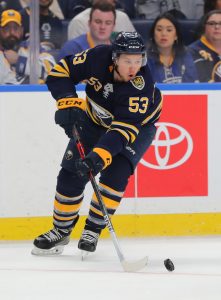 Today, after sitting out the last three games as a healthy scratch, Jeff Skinner was absent from the morning skate. The $72MM dollar man seems completely forgotten by head coach Ralph Krueger, who denied having a "doghouse" today but didn't share any real insight on the situation. That doesn't mean people aren't looking for answers.
Lance Lysowski of the Buffalo News reports that Skinner's agent, Don Meehan of Newport Sports, had a "lengthy conversation" on Wednesday with Sabres GM Kevyn Adams, expressing his concerns over the situation.
It has been an incredible fall from grace for Skinner, who signed his eight-year, $72MM deal with the Sabres in 2019 after scoring 40 goals in his first year in Buffalo. Those goals mostly came while riding shotgun with Jack Eichel, but it's not like it was the first time he had performed at the NHL level. Skinner had been a 30+ goal scorer on three previous occasions, including a 37-goal campaign in 2016-17.
But after signing it, and since Krueger took over as head coach, Skinner has just 14 goals and 24 points in 73 games. He now finds himself out of the lineup completely, certainly not something he expected after 734 career NHL games and at the age of 28.
So to hear that concerns were expressed shouldn't come as a shock, not at this point.
But what can be done? The Sabres would likely have to eat a huge portion of the deal to trade Skinner, and even that would have further complications. The player holds a no-move clause, meaning his camp would have to be involved in the conversation, and very few teams are looking to add salary right now. Though Skinner's money drops off at the end of the deal, he's still owed $10MM in each of the next four seasons.
One has to wonder whether a buyout, as historic as it would be, is a possibility at this point. The money would be paid out over 12 seasons, but the highest cap charge would be in 2022-23 at $8.97MM. Two other seasons would have boosted numbers, but the vast majority would have something under $2.5MM. That's doable, especially for a team that doesn't really look close to contending anyway.
A move like that is far down the road–the buyout window doesn't open until the summer–but it's obvious there needs to be some kind of resolution to this issue. The best solution would be Skinner getting back to his top-six, goal-scoring ways; but that seems like an era ago at this point.
Photo courtesy of USA Today Sports Images