We've now made it past the holiday season but there is still plenty to be thankful. Like the last few years, PHR will take a look at what teams are thankful for but this year comes with a bit of a change. Normally teams would have an idea of where their season was heading, coming up on the one-quarter mark with mountains of statistics to analyze. Instead, in this unprecedented year, the season hasn't even begun. We'll still take a look at what each group is excited about and what they could hope for with the calendar having now flipped to 2021.
What are the Islanders most thankful for?
Some goaltending stability.
When Jaroslav Halak started to falter towards the end of his tenure with New York (one that had him buried in the minors at one point), there were some patchwork replacements added in Thomas Greiss and Robin Lehner (for one year) but neither were viewed as long-term starting options.  Then came Semyon Varlamov in the 2019 offseason on a four-year deal, providing some stability at the position.
They're certainly also thankful that they were finally able to lure Ilya Sorokin to North America, using the ability to burn his one-year entry-level deal in the bubble to do so.  The 25-year-old has long been viewed as one of the best goalies outside the league and if he lives up to his potential, he could be pushing Varlamov for playing time before long.  All of a sudden, things appear to be set between the pipes.
Who are the Islanders most thankful for?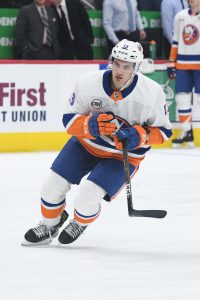 Center Mathew Barzal.  How could it not be him?  He has been in the league for three years and has led the team in points all three times.  The 23-year-old has quickly become one of the better playmakers in the league despite playing for a team that isn't exactly an offensive juggernaut.  Getting a player like that in the middle of the first round is a great return on their investment, one that hasn't cost them a lot financially so far.  That will soon change whenever his next contract gets signed.  While a long-term deal would be desirable from GM Lou Lamoriello's standpoint, their cap situation would make doing so quite difficult.  Nevertheless, even a bridge deal will cost a pretty penny but the price will be well worth it.
What would the Islanders be even more thankful for?
Beyond getting a contract for Barzal in place?  The Islanders would be thrilled if they could get a similar performance from their back end this season as they did last year but that will be tricky without Devon Toews (a cap casualty that was traded to Colorado) and the injured Johnny Boychuk.  That will put a lot of pressure on youngster Noah Dobson, in particular, for the upcoming season.  He was certainly eased in last year but that is a luxury they can't afford now; instead, they're likely hoping for top-four minutes from him most nights.  Barzal adapted quickly to the NHL and became a star almost overnight.  Dobson is taking the slower approach but they'd be quite thankful for Dobson taking more than a step or two forward in his development in 2020-21.
What should be on the Islanders' wish list?
Cap space.  They need some flexibility even with Boychuk's eventual LTIR placement and with many teams either capped out or facing budgetary restrictions, this is hardly an ideal market to try and shed salary.  The Isles have several higher-priced veterans that have underperformed since signing their contracts so Lamoriello is going to have to be creative in order to make that happen.  There are plenty of dominoes to fall still (including Barzal's contract and several PTOs being converted into NHL contracts) so this is certainly something that needs to be addressed quickly.
Photo courtesy of USA Today Sports Images.