The New Jersey Devils have added some more goaltending depth, claiming Aaron Dell off waivers from the Toronto Maple Leafs. Jason Spezza, the other Maple Leafs player on waivers, has cleared.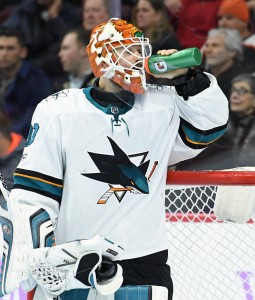 The claim of Dell, 31, comes as no surprise after the goaltending shuffle that has occurred over the last few weeks, which included the Devils claiming Eric Comrie as well. Given the fact that the team will now have four goaltenders on the NHL roster once quarantines are over, it seems likely that Comrie too will find himself back on waivers at some point. Scott Wedgewood, who is currently the Devils backup, hasn't cleared waivers himself, meaning he can't go to the taxi squad or AHL either at the moment.
It's a complicated scenario, but the crux of it is that the Devils have turned a glaring lack of depth into an overloaded position in a matter of days. Since Corey Crawford's unexpected retirement just before the start of the season, New Jersey was facing a perilous situation with only three goaltenders in the entire organization. Now, after acquiring Comrie and Dell, they likely have too many.
Dell doesn't have an exceptionally long history in the NHL but has spent the last four seasons as the primary backup with the San Jose Sharks, posting strong enough numbers. Through 107 appearances in the NHL, he has a .908 save percentage and a 48-34-12 record. With the veteran off to New Jersey, the Maple Leafs are back to Michael Hutchinson as their third-string option. Luckily, he cleared waivers earlier this month and can remain with the taxi squad for the time being.
Photo courtesy of USA Today Sports Images