The long negotiation between the Nashville Predators and restricted free agent Luke Kunin is about to come to an end. Andy Strickland of Fox Sports Midwest reports that Kunin will sign a two-year deal with the Predators shortly, while Elliotte Friedman of Sportsnet reports it will be worth $2.3MM per season.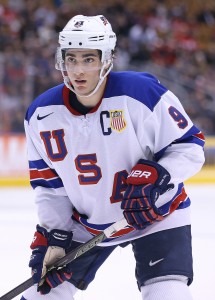 Kunin, 23, had been absent from the first few days of Predators camp as he waited for a new deal, a tough start to his time with his new team. The young forward arrived in an offseason trade with the Minnesota Wild that saw veteran center Nick Bonino head north. Selected 15th overall in 2016, Kunin was a star for the U.S. junior team and the University of Wisconsin, both places where he wore the "C," but he struggled to really establish himself at the NHL level until 2019-20. Last season he finally played regularly and put up 31 points in 63 games for the team.
While those numbers don't pop off the page, the Predators should have reason to believe he can continue to improve with time. Kunin only turned 23 a month ago and has always been a cerebral player, able to use his awareness and anticipation to create offensive chances for himself and his linemates. If there is a player that everything is going to "click" for, he could be the one. If the Predators decide to give him the ice time it could happen this season.
The two-year length is a classic bridge deal, which will leave Kunin a restricted free agent at its expiry. If he lives up to his potential and becomes a force for the Predators, he'll be in for a big-money deal down the road.