The Vegas Golden Knights finally have a captain. After operating without one for their first few years of existence, the team has decided to name Mark Stone captain today, perhaps unsurprisingly to those who have watched his impact since he arrived in Sin City. Alex Pietrangelo and Reilly Smith will serve as alternates this season.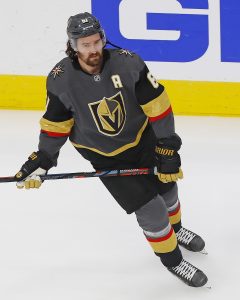 Stone, who was already a leader in the dressing room for the Golden Knights, released a short statement explaining how it went down:
Pete (DeBoer) called me in to his office. Didn't really think much of it, just thought maybe he was going to ask about the camp. Asked me if I was up for the opportunity to be the captain of this team. This is an organization I've always wanted to be a part of so to be able to be the first captain of this franchise it's very honoring, very humbling and I'm excited to see where this team goes.
The 28-year-old Stone isn't flashy, even though he has scored at least 60 points in five of his six full NHL season, but he is effective. Arguably the best defensive winger in the entire NHL, the 2010 sixth-round pick has developed into one of the most well-rounded talents in the entire league. On a nightly basis you can watch him strip defenders of the puck and set up opportunities for his teammates. He was the runner-up for the Selke Trophy in 2019 and finished fifth in voting last season, impressive feats for a winger since the award is almost always given to a center.
Perhaps most importantly, Stone is heading into just the second season of an eight-year deal with the Golden Knights that will keep him in Vegas through the 2026-27 season. He has a full no-movement clause and carries a $9.5MM cap hit throughout, meaning he isn't going anywhere. That "C" will be on the ice for years, perhaps until the end of his career.
He'll get his first chance to perform as captain tomorrow night when the Golden Knights welcome in the Anaheim Ducks.
Photo courtesy of USA Today Sports Images