It shouldn't come as any shock today that Jay Bouwmeester has retired from the NHL. The veteran defenseman announced as much through Pierre LeBrun of The Athletic, explaining that he "knew [he] was done essentially when it happened, to be quite honest." 'It' in this case refers to the cardiac episode that Bouwmeester experienced in February of last year, collapsing on the bench and requiring transport to a nearby hospital.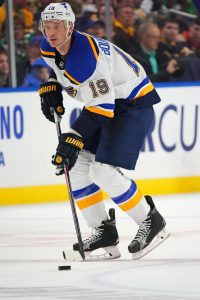 Bouwmeester didn't play again but did show his face around the Blues again after recovering and last month St. Louis GM Doug Armstrong was clear that he would love to work with him at some point in the future.
It's hard to explain just how beloved the 37-year-old Bouwmeester is around the NHL, not by teammates for his personality and demeanor, but by coaching staffs and front offices for his unassuming rock-solid gameplay. The smooth-skating defenseman played in 1,240 NHL games during a 17-year career, but it was rare for him to really dominate the highlight packages. Instead, he'd calmly defend and move the puck quickly, logging 25, 26, or 27 minutes of ice time without even being noticeable for much of it.
In 2007-08 for instance, he averaged 27:28 a game for the Florida Panthers, scoring 15 goals and 37 points in the process. He failed to receive even a single vote for the Norris Trophy despite playing more than anyone else that year. Even if the major awards didn't recognize him, his coaches did. Bouwmeester was playing more than 21 minutes a night even at the very end of his career, still calmly diffusing offensive chances with his floating stride.
Even though his career was cut short, Bouwmeester still cracked the top-100 for games played in the history of the NHL, currently tied with Patrik Elias and Eric Staal for 96th overall. He managed to raise the Stanley Cup for the first time in 2019, 17 years after he was drafted third overall by the Panthers.
Perhaps most importantly, Bouwmeester told LeBrun that though it hasn't been "totally smooth sailing" since his incident, he's staying active and is "feeling OK."
Photo courtesy of USA Today Sports Images