Though there had been speculation and rumors running wild in the hours since Jay Bouwmeester collapsed on the bench last night at the St. Louis Blues-Anaheim Ducks game, the hockey world can now breathe a sigh of relief. Blues' GM Doug Armstrong met with reporters after arriving in Las Vegas and gave an update on the veteran defenseman's status. Bouwmeester is doing "very well" but still undergoing tests to determine exactly what happened.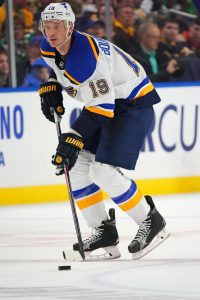 Midway through the first period last night, Bouwmeester had a cardiac event while sitting on the St. Louis bench and collapsed behind the boards. Immediately trainers and physicians from both teams rushed to his aid, administering a defibrillator to restart his heart and bring him back to consciousness.
The game was cancelled, and will likely be played in its entirety on another date. No details have come out about the potential rescheduling so far. Armstrong stated that the NHL is working on a solution, though it is expected to start at 1-1 but with all 60 minutes to play.
Later, a statement was released from the team indicating that Bouwmeester was stable and moving his extremities. This new update should put players, media and fans even more at ease, though obviously the Blues will continue to monitor the veteran closely in the coming days and weeks.
Bouwmeester, 36, has long been known and respected for his fitness level, logging huge amounts of ice time on a nightly basis. Early in his career he even had a season where he averaged 27:28, playing nearly half of every game for the Florida Panthers. Now in the latter part of his career he has still been a consistent presence for the Blues, and is currently averaging more than 21 minutes a night.
With a situation as serious as this, speculation will continue to run amok surrounding Bouwmeester's future. All hockey fans can do is hope that he will return to full health and be able to play again down the road.
Photo courtesy of USA Today Sports Images