We've now made it past Thanksgiving and the holiday season is right around the corner. Like the last few years, PHR will take a look at what teams are thankful for but this year comes with a bit of a change. Normally teams would have an idea of where their season was heading, coming up on the one-quarter mark with mountains of statistics to analyze. Instead, in this unprecedented year, the season hasn't even begun. We'll still take a look at what each group is excited about and what they could hope for once the calendar turns to 2021.
What are the Blackhawks most thankful for?
The World Junior Championship.
Kirby Dach isn't a junior player anymore. In fact, he's barely a prospect at this point, after playing in 64 regular season games and then being one of the Blackhawks' best players in the postseason. He'll almost certainly be part of the team's NHL roster whenever the upcoming season starts. Despite all that, Dach is about to play against the best junior-aged players in the world. The 19-year-old was loaned to Team Canada's month-long selection camp and is expected to play in the upcoming tournament unless it somehow gets in the way of the NHL season (which appears very unlikely at this point).
Dach didn't get to play at the WJC last year, he was too busy suiting up for the Blackhawks. It's not often that a player gets to go back to the tournament after missing it for professional action, but that's exactly what the Blackhawks chose for Dach while he and the rest of the NHL players wait around for a season that is still uncertain. There's a very real chance that the young forward is the best player in the tournament, given his experience and success at the highest level. But even if he isn't, Dach will certainly be able to shake off any offseason rust and should be ready to fire as soon as NHL games start.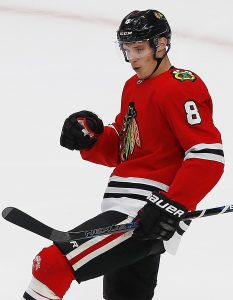 Who are the Blackhawks most thankful for?
Players like Dach and Adam Boqvist may be the next generation of stars for the Blackhawks, but both cost high picks to bring in (third overall for Dach, eighth for Boqvist). Kubalik on the other hand was just a forgotten seventh-round pick by the Los Angeles Kings that Chicago managed to acquire for a fifth in 2019. He wasn't even signed at that point and it certainly wasn't clear that he would be a difference-maker at the NHL level.
But a difference-maker he is. Kubalik burst onto the scene with 30 goals in his rookie season, earning himself a third-place finish in the Calder Trophy voting behind Cale Makar and Quinn Hughes. He was another one of the success stories in the postseason for the Blackhawks with eight points in nine games and earned himself a new two-year contract this fall. If the Blackhawks have any chance of competing in the next few years, it will be because of savvy additions like Kubalik, who cost almost nothing and has now become one of the team's most important players.
What would the Blackhawks be even more thankful for?
Breakout goaltending.
No one believed the Blackhawks would go with a tandem of Collin Delia and Malcolm Subban in net, but that is what it appears will happen whenever this season begins. Both players have shown flashes of potential, with Subban even a first-round pick in 2012, but neither has had any sort of sustained success at the NHL level. If the playoffs are a realistic target and there isn't any help coming, the Blackhawks desperately need one of the two to take control of the net and become the kind of mid-career breakout goaltender that Jordan Binnington was for the St. Louis Blues was in 2018-19.
What should be on the Blackhawks' holiday wish list?
More young defense.
The Blackhawks have a bunch of talented defense prospects, between Boqvist, Ian Mitchell, Alec Regula, Nicolas Beaudin, and others. But there's no guarantee that any of them realize their potential at the NHL level and with the legendary duo of Duncan Keith and Brent Seabrook clearly on their way out, new leaders will have to step up.
In 2019, Chicago traded away Henri Jokiharju in exchange for Alexander Nylander, moving some of their prospect capital from defense to forward. If any of those young defenders bust, that move could be regretted for years. It's not necessarily more lottery tickets that they should add, but young players that are a little more established to fill out the depth chart.
Photo courtesy of USA Today Sports Images