Navigating the salary cap is one of the more important tasks for any GM.  Teams that can avert total cap chaos by walking the tightrope of inking players to deals that match their value (or compensate for future value without breaking the bank) remain successful.  Those that don't see struggles and front office changes.
PHR will look at every NHL team and give a thorough look at their cap situation heading into the 2020-21 season.  This will focus more on players who are regulars on the roster versus those who may find themselves shuttling between the AHL and NHL.  All cap figures are courtesy of CapFriendly.
New Jersey Devils
Current Cap Hit: $64,304,999 (under the $81.5MM Upper Limit)
Entry-Level Contracts
F Jesper Boqvist (two years, $925K)
F Jack Hughes (two years, $925K)
F Janne Kuokkanen (one year, $812K)
F Michael McLeod (one year, $863K)
Potential Bonuses
Hughes: $2.85MM
Kuokkanen: $32.5K
McLeod: $500K
Total: $3.3825MM
Hughes, the top pick from the 2019 draft, didn't have a great rookie season but was also making the jump from the USHL which was basically uncharted waters.  A lot can change over the next couple of years and if he takes the big step forward offensively that many expect him to, he'll be able to bypass a bridge deal and get a long-term, big-money deal.  Boqvist split last season between the Devils and AHL Binghamton which should have him in the mix for a spot on the fourth line but his offensive numbers will need to improve if he wants to make what he's getting now on his second deal.  McLeod, a 2016 first-round pick, has struggled over his first two professional seasons but with the AHL likely to have an even shorter year than the NHL, keeping him up for an extended look may be best for his development.  Kuokkanen was an important part of the Sami Vatanen deal back at the deadline and it's possible he's in the mix for a spot at the end of the roster as well.
One Year Remaining, Non-Entry-Level
D Connor Carrick ($1.5MM, UFA)
F Nikita Gusev ($4.5MM, UFA)
D Dmitry Kulikov ($1.15MM, UFA)
D Ryan Murray ($4.6MM, UFA)
F Kyle Palmieri ($4.65MM, UFA)
F Travis Zajac ($5.75MM, UFA)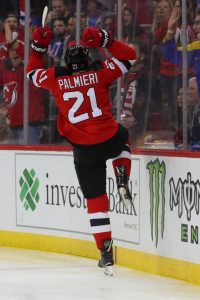 While Palmieri isn't the highest-paid player on this list, that won't be the case for much longer.  Since joining the Devils, he has emerged as a consistent goal scorer, potting between 24 and 30 goals over his five seasons with the team.  While the current free agent market hasn't been particularly kind to wingers this offseason, New Jersey is in a position where they can afford to pay above market value to ensure they keep him around and not lose a big part of their attack to free agency.  If he does make it to the open market though, he should have no shortage of suitors though how many will be able to afford him (a standard caveat that is going to apply for a few years for any UFA of note) remains to be seen.
Zajac has been a fixture in New Jersey's lineup for the past 14 seasons but his time as a top-six center has come and gone.  With an abundance of younger options down the middle, it wouldn't be surprising if he finds himself elsewhere in 2021-22 at about a third of what he costs now although GM Tom Fitzgerald could try to keep Zajac around in a mentor role as well.  Gusev had a bit of a shaky start to his NHL career last season but eventually became a productive player in their top six.  Given his limited track record, predicting his next contract is a bit trickier but he'll need to improve on his offensive numbers to have a shot at a raise.
Murray was brought in as a cap dump from Columbus and lands in a good spot where he'll help stabilize their top four, provided he can stay healthy.  That's a huge if based on his career and even if he stays healthy this season, his history of being injured will certainly limit his market although Chris Tanev, an oft-injured blueliner, was able to still land a four-year, $18MM deal this offseason.  As things stand, that's around what he should be targeting as things stand.  Carrick has had a limited role since joining the Devils and will likely be the sixth or seventh defender again.  That's a high price tag for that spot on the depth chart and he'll be hard-pressed to land that on his next deal.  Kulikov was overpaid with Winnipeg but he did log 20 minutes a game and hold his own last season.  This was a decent under the radar move for the Devils and he could have an opportunity to rebuild his value with them this coming season.
Two Years Remaining
D Will Butcher ($3.733MM, UFA)
G Corey Crawford ($3.9MM, UFA)
D P.K. Subban ($9MM, UFA)
F Miles Wood ($2.75MM, RFA)
F Pavel Zacha ($2.25MM, RFA)
Wood has seen his production taper off slightly the last couple of years and instead of looking like a possible top-six winger, he's settled in as more of a third liner.  He's still an effective player and is one of the quicker players in the league but he's owed a $3.5MM qualifying offer when this deal is up and that price tag is looking a little high as things stand.  Zacha hasn't lived up to his draft billing yet (sixth overall in 2015) but he has taken some small steps forward the last couple of years.  Long term, he probably profiles no higher than a third-line center at this point and a $3MM qualifier for someone in that role is justifiable although he probably doesn't stand to make much more than that on his next deal.
Subban was brought in last offseason from Nashville as the Predators were looking to free up salary and his return to the Eastern Conference wasn't the greatest.  He struggled to the worst offensive season of his career while he actually saw less ice time than he was getting with the Preds on a team where the expectation was that he'd be their top defender.  It's a bad-value contract but one that they can afford.  He's looking at a sizable dip in pay on his next contract.  Butcher also had a tough year offensively, putting up career-low numbers which isn't ideal for someone billed as an offensive defenseman.  Getting back to his rookie production (44 points) is what he'll need if he wants a shot at cashing in on a long-term deal.
Crawford signed with New Jersey in free agency after he and Chicago weren't able to come to terms on a new deal with term being a sticking point.  At this point, he's a short-term bridge goalie and a bit above-average for that role.  His contract reflects both of those factors and is a pretty good deal for the Devils.
Three Years Remaining
F Andreas Johnsson ($3.4MM, UFA)
D Damon Severson ($4.17MM, UFA)
Johnsson was also brought in as a cap casualty as Toronto needed to free up room this offseason.  He is coming off an injury-riddled season but has a 20-goal year under his belt.  Based on the market last offseason, he's on a fair-market deal.
Severson's contract is slowly turning into a bargain as he has settled in nicely on their top pairing and led the team in ATOI last season.  While his offensive game may not get to that next tier, it doesn't need to in order to justify that price tag.  A top-pairing player making number four money is nice value even if he should be in a lower spot on the depth chart.
Four Or More Years Remaining
F Nico Hischier ($7.25MM through 2026-27)
This contract seemed a bit steep when it was signed a year ago as New Jersey was predicting that the 2017 top pick would take another step or two forward offensively and establish himself as a star center.  That could very well still happen but it didn't last season.  At the moment, it's an overpayment but they're banking on it being a below-market deal by the time this contract expires.
Buyouts
F Mike Cammalleri ($1.67MM in 2020-21)
G Cory Schneider ($2MM through 2023-24)
Retained Salary Transactions
None
Salary Cap Recapture
F Ilya Kovalchuk ($250K through 2024-25)
Still To Sign
G Mackenzie Blackwood – New Jersey's goalie of the future, he likely hasn't played enough (70 career NHL games) to get a long-term deal right away.  A two-year pact that allows him to split time with Crawford and then look for the big-ticket deal with arbitration rights seems like the smart path to take.
F Jesper Bratt – Bratt has quietly been consistent offensively, ranging between 32 and 35 points in his three NHL seasons.  That's not enough to command a huge raise although a short-term contract in the $2MM range, allowing him to potentially triple his entry-level salary seems doable.  His camp could point to Wood's contract as a good comparable.
Best Value: Severson
Worst Value: Subban
Looking Ahead
There isn't a whole lot to say here.  Cap space hasn't been an issue for New Jersey for a while and it doesn't appear as if it will anytime soon.  Hughes will eventually sign a deal similar to Hischier's if all goes well but that will largely be offset by Subban's contract coming off the books.  While the Devils haven't had a lot of success on the free agent market, they can continue to utilize their cap room by making low-price acquisitions to bolster their depth.  They've done that several times already and it stands to reason that Fitzgerald may take that same approach for any in-season movement this year or next summer.
Photo courtesy of USA Today Sports Images.