Navigating the salary cap is one of the more important tasks for any GM.  Teams that can avert total cap chaos by walking the tightrope of inking players to deals that match their value (or compensate for future value without breaking the bank) remain successful.  Those that don't see struggles and front office changes.
PHR will look at every NHL team and give a thorough look at their cap situation heading into the 2020-21 season.  This will focus more on players who are regulars on the roster versus those who may find themselves shuttling between the AHL and NHL.  All cap figures are courtesy of CapFriendly.
Chicago Blackhawks
Current Cap Hit: $74,286,313 (under the $81.5MM Upper Limit)
Entry-Level Contracts
D Ian Mitchell (three years, $925K)
F Kirby Dach (two years, $925K)
F Pius Suter (one year, $925K)
D Adam Boqvist (two years, $894K)
F Alexander Nylander (one year, $863K)
D Lucas Carlsson (one year, $792K)
Potential Bonuses
Dach: $2.5MM
Mitchell: $850K
Suter: $850K
Boqvist: $850K
Nylander: $850K
Carlson: $83K
One of the biggest positives is the Blackhawks have accumulated quite a bit of talent on entry-level deals and most of them will be on entry-level deals for at least two years, giving Chicago some cheap, but highly productive players on their roster, something they need with their core being both expensive and aging. Dach has been the biggest revelation as the forward was an afterthought after being drafted third-overall in the 2019 draft behind Jack Hughes and Kappo Kakko, but Dach put up identical numbers in his first NHL season to those two, scoring eight goals and 23 points last season. Hughes (21 points) and Kaako (23 points) did not play in the playoffs, but Dach established himself as a top-six center during that time, posting six points in nine playoff games and could be in for a big year.
With the defense in flux, the Blackhawks will have to hope that some of their young blueliners are ready to take that next step. Boqvist established himself last year with 13 points in 41 games and could be ready for a full-time role in the top four. Next is Mitchell, fresh from a dominant three-year stint at the University of Denver, who is expected to step right in and contribute. Carlsson is another blueliner who stepped in last year and could help out at the back end of the defensive lineup.
The team brought in Suter from Switzerland after a breakout season in the Swiss League where he posted 30 goals and 53 points in 50 games there. The 24-year-old is likely to earn a potential middle-six role in his first season in Chicago. Nylander will be one of the biggest question marks this season. The 22-year-old has struggled to establish himself as a top prospect after being the eighth-overall pick in 2016 by Buffalo and while he scored 10 goals in his first full season in the NHL with the Blackhawks, he went scoreless in eight playoff games and will have to prove he is an up-and-coming player.
One Year Remaining, Non-Entry-Level
F Zack Smith ($3.25MM, UFA)
D Nikita Zadorov ($3.2MM, RFA)
F Mattias Janmark ($2.25MM, UFA)
F David Kampf ($1MM, RFA)
F Lucas Wallmark ($950K, RFA)
D Nick Seeler ($725K, UFA)
The Blackhawks do have one decent-sized contract coming off the books in a year with Smith, who struggled putting up numbers in his first year in Chicago last year, scoring four goals and 11 points in 50 games and likely will be let go in a year. Janmark and Wallmark were given a one-year deal and will have to prove that they are worth bringing back on longer contracts. Kampf, who put up a career-high eight goals and provides solid defense, is another RFA who should earn a new contract.
Zadorov is an interesting addition. Acquired in a deal for Brandon Saad, the 6-foot-6 blueliner should add much needed size, grit and physicality to a defense that needs it, but will also need to be locked up in a year. After struggling to establish consistent playing time in Colorado, Zadorov could get quite a bit more playing time and could have a career season in Chicago.
Two Years Remaining
D Calvin de Haan ($4.55MM, UFA)
F Andrew Shaw ($3.9MM, UFA)
D Connor Murphy ($3.85MM, UFA)
F Dominik Kubalik ($3.7MM, RFA)
F Ryan Carpenter ($1MM, UFA)
G Collin Delia ($1MM, UFA)
G Malcolm Subban ($850K, UFA)
F Matthew Highmore ($725K, RFA)
De Haan and Murphy are two veteran blueliners who should fill in the top-four on defense, but if they can get something out of some of their young players, could be expendable and possibly moved at the trade deadline if either can produce. De Haan is coming off a 29-game season as he has been riddled with injuries, but is expected to be healthy and can be quite an impressive defenseman when healthy. The defensive-first Murphy posted a career-high 19 points last year and should be a fixture in their defense.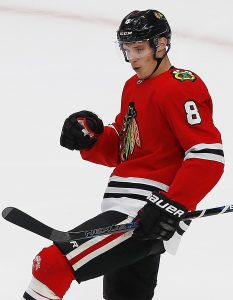 Kubalik was a big addition last year, putting up 30 goals and 46 points in his rookie campaign. The 25-year-old should continue to put up big numbers and is just another young player who has helped reshape the Blackhawks quick rebuild. If he continues his scoring ways, he will likely require an expensive long-term deal to retain him. Shaw is another player who must take his game to another level and prove his value.
The goaltending situation will also be interesting to watch. The team wants to see what it has in Delia and Subban. If one of the two succeeds, then they will be guaranteed a bigger deal, but neither has much experience at the NHL level and neither has ever been a starter in the NHL.
Three Years Remaining
F Patrick Kane ($10.5MM, UFA)
F Jonathan Toews ($10.5MM, UFA)
D Duncan Keith ($5.54MM, UFA)
F Alex DeBrincat ($6.4MM, RFA)
The huge overwhelming contracts of the former Stanley Cup core are suddenly down to a manageable three years and Kane, Toews and Keith (both 32) are aging reasonably well. Kane tallied 33 goals and 84 points in 70 games last year, making his contract quite palatable. Toews did see a decline in his production, going from 35 goals to just 18 goals last year. Yet Toews still posted 60 points in 70 games. The Blackhawks have to hope he can bounce back to his usual standards, otherwise the next three years will be challenging. Keith, on the other hand, is 37 years old now, meaning his contract won't run out until he is 40 years old. However, the defenseman is still a solid player on the team's blueline even if his offense is starting to decline.
The team also has high hopes for DeBrincat, who had a down year in 2019-20. He scored 28 goals in his rookie campaign, 40 goals in 2018-19, but struggled last year with just 18 goals and 45 points. Chicago will also have to hope that the five-foot-seven forward can find his scoring touch for this coming season.
Four Years Remaining
D Brent Seabrook ($6.88MM, UFA)
The most challenging deal is with Seabrook who still has four more years and has struggled to produce the last few years. The 35-year-old missed a large chunk of the season last year. He hasn't played since December of 2019 and has since had surgery on his shoulder and both hips. He is believed to be fully healthy for this coming year, and will be needed to return to form as one of the few veterans manning the blueline. If he can step up, his contributions will be quite valuable. However, the four years at the price tag will be tough for the Blackhawks to deal with if he can't return as a top-four defenseman, which he may not have left.
Five Or More Years Remaining
None
Buyouts
None
Retained Salary Transactions
F Brandon Saad ($1MM in 2020-21)
D Olli Maatta ($750K through 2021-22)
Still To Sign
Strome remains unsigned and has proven to be a solid second-line center, but must keep improving his skills after seeing a drop off in his offense in his second year in Chicago. However, those struggles will only making negotiating a contract more challenging as the team must decide whether to lock the 23-year-old up short-term or long-term.
Best Value: Kubalik
Worst Value: Seabrook
Looking Ahead
The Blackhawks are slowly working their way out of their cap hole and have really benefitted from the development of many of their young players. The team must still show some more consistency and that youth must still take that next step and go from regular roster players into core stars, which few players have done that.
Photo courtesy of USA Today Sports Images.