Dec 28: According to Jeremy Rutherford of The Athletic, Hoffman is believed to have a one-year contract in place worth between $3.5MM and $4.5MM. The two sides are waiting to make it official to help maximize their salary cap flexibility.
Dec 27: Mike Hoffman is certainly taking a different route to securing a contract for the upcoming season.  The Blues announced that they have signed the winger to a PTO agreement with an invitation to training camp.  Back when free agency opened up, this certainly wasn't the expected outcome for the player ranked fourth on our Top 50 UFA list.
The 31-year-old is coming off of another productive season that saw him put up 29 goals and 30 assists in 69 games with the Panthers.  It was the fifth time in the last six seasons that he had at least 27 goals and he's tied for 16th in goals scored by any player over the past six seasons.  Hoffman is particularly adept when it comes to power play production and has scored 28 times with the man advantage over the past two years, tied for the fifth-most in the league.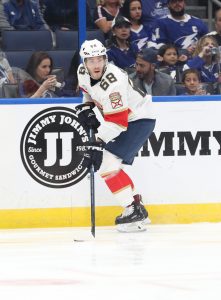 So how has it come to this?  The UFA market wasn't kind to wingers seeking long-term, big-money agreements; Taylor Hall had to settle for a one-year, $8MM deal with Buffalo while Tyler Toffoli opted for a multi-year agreement but had to take a pay cut to do so with Montreal.  Hoffman indicated a willingness to do like Hall and sign for one year but the higher-priced offers never really materialized.
Having said that, this isn't a typical PTO agreement.  The Blues will have some salary cap flexibility with Alex Steen (out for the year) and Vladimir Tarasenko (out for several more months) heading for LTIR but for St. Louis to best utilize the cap space that those placements will provide, they will want to wait to move them there until the start of the season.  Hoffman will presumably sign a one-year agreement once the season starts for a much higher price tag than a deal that's close to the league minimum as players who earn deals off of PTOs typically get.
St. Louis still has to re-sign RFA defenseman Vince Dunn but the approach for him could very well be the same, to wait for the LTIR placements to be made official and then sign the contract into that space.
It has been an interesting free agent market for Hoffman but it appears he will eventually get his one-year deal with St. Louis being the team to give it to him.  He'll just have to wait a few more weeks for it to happen.
Photo courtesy of USA Today Sports Images.