Navigating the salary cap is one of the more important tasks for any GM.  Teams that can avert total cap chaos by walking the tightrope of inking players to deals that match their value (or compensate for future value without breaking the bank) remain successful.  Those that don't see struggles and front office changes.
PHR will look at every NHL team and give a thorough look at their cap situation heading into the 2020-21 season.  This will focus more on players who are regulars on the roster versus those who may find themselves shuttling between the AHL and NHL.  All cap figures are courtesy of CapFriendly.
Edmonton Oilers
Current Cap Hit: $82,529,158 (over the $81.5MM Upper Limit)
Entry-Level Contracts
F Kailer Yamamoto (one year, $894K)
Potential Bonuses
Yamamoto: $230K
Yamamoto's first two NHL stints didn't go too well but that changed last year.  Upon being recalled back in late December, he immediately stepped into a top-six role and was productive, hovering near a point per game along the way.  If that continues into next season, he should have enough of a track record to command a sizable raise next year.
One Year Remaining, Non-Entry-Level
D Tyson Barrie ($3.75MM, UFA)
F Alex Chiasson ($2.15MM, UFA)
F Tyler Ennis ($1MM, UFA)
F Gaetan Haas ($915K, UFA)
F Dominik Kahun ($975K, RFA)
F Jujhar Khaira ($1.2MM, RFA)
D Adam Larsson ($4.167MM, UFA)
F Ryan Nugent-Hopkins ($6MM, UFA)
F Joakim Nygard ($875K, UFA)
G Mike Smith ($1.5MM, UFA)
Potential Bonuses
Smith: $500K
Nugent-Hopkins is the most notable player on this list by far and exploratory talks on an extension have taken place.  The 27-year-old has spent most of his career down the middle but has seen a lot more time on the left wing in recent years and his production has taken off as a result.  Either as a top-scoring winger or a capable pivot, he should be able to get a small raise on his current deal as well as a long-term pact.  Chiasson's second season didn't go as well as his first and if he produces at a similar rate next season, he will be taking a cut in Edmonton or somewhere else.  Khaira is a fourth liner most nights and that price tag would be hard to justify in this era so he looks like a non-tender candidate at this time while Nygard and Haas are role players who could be retained or replaced with similar-priced players a year from now.
Ennis and Kahun have the potential to be two of the better bargain signings this offseason (Kahun could wind up as the best bargain depending on what else happens).  Ennis showed that he still has some production in him with Ottawa and certainly held his own after being moved to Edmonton at the deadline and it won't take much to justify that price tag.  Kahun was a surprising non-tender by Buffalo and figures to play in their middle six.  There's still some upside in his game and he should be counted on as a reliable secondary scorer for a team that has been lacking in that department at times.
Barrie spurned higher-priced offers to try to rebuild his value and he'll certainly fit in as the anchor on the back end on the power play.  The rest of his game isn't the strongest but he has never been known as a staunch defender; point production is what will make or break his hopes of cashing in a year from now.  Larsson is naturally best known for being the single asset coming to the Oilers from the Taylor Hall trade but while he hasn't been able to reach the top pairing status that his draft selection would suggest, he is an effective top-four option.  He's not looking at a big raise a year from now but something around what he's making now is certainly doable.
Smith didn't have a great year last season but the team opted to bring him back.  At 38, he's going year-to-year at this point and will need to improve in his second go-round to have a shot at even a modest raise next offseason.
Two Years Remaining
F Josh Archibald ($1.5MM, UFA)
D Caleb Jones ($850K, RFA)
G Mikko Koskinen ($4.5MM, UFA)
D Darnell Nurse ($5.6MM, UFA)
F Jesse Puljujarvi ($1.175MM, RFA)
D Kris Russell ($4MM in 2020-21, $1.25MM in 2021-22, UFA)
F Kyle Turris ($1.65MM, UFA)
Turris was brought in to give the Oilers another proven option down the middle, a move that further cements Nugent-Hopkins' short-term future on the wing.  Yes, he struggled in Nashville under the weight of his old contract but with a clearly-defined role and a reasonable price tag, he should fare much better with the Oilers.  Archibald has quietly put up a dozen goals over each of the last two seasons which earned him a bit of security but he'll need to better those numbers if he wants a bigger contract two years from now.  Puljujarvi is going to be one of the more interesting players to follow next season.  He didn't get his trade and while he played well in Finland, there are still plenty of question marks.  There's an opportunity for him and if he grabs it, he could be in line for a big raise down the road.  If he doesn't, he's someone that could find himself without a qualifying offer as well.
Nurse opted to take a deal that brought him straight to UFA eligibility back in February.  It's something that's riskier now than it was back then but as we saw this offseason, impact blueliners still got paid.  Accordingly, even if the cap crunch remains in 2022, it shouldn't hurt his fortunes too much.  Russell had to take a significant pay cut but was able to leverage next year's expansion into an early extension, one that's more in line with the role he plays.  Jones is now waiver-eligible so he's a safe bet to be on the roster but will likely have a limited role next season.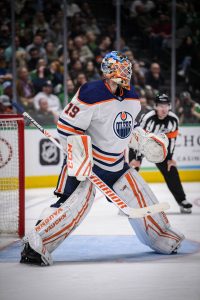 Koskinen's extension two years ago was baffling and appeared to be the final straw that pushed out former GM Peter Chiarelli.  It's not that he has been particularly bad by any stretch but he is still rather unproven at the age of 32 and hasn't shown that he can handle a full number one workload.  At this point, it seems unlikely that he'll be able to land a big raise on the open market but GM Ken Holland will certainly have to budget a higher amount for a more proven starter that offseason.  If Koskinen is ultimately retained at a similar rate, then more money will need to be invested into the backup position and with Nurse being the only big-ticket expiring deal (and they'll want to retain him), freeing up more goalie money could be tricky.
Three Years Remaining
D Oscar Klefbom ($4.167MM, UFA)
F James Neal ($5.75MM, UFA)
Neal had a bit of a resurgence last season, jumping from seven goals the year before to 19 despite the pandemic cutting things short.  That's still not a great return on that price tag by any stretch but it's still an improvement.  Despite that, this is a contract that could be bought out by the time it's set to expire.
Klefbom is set to miss potentially the entire season due to shoulder troubles which freed up the money to sign Barrie (as Klefbom will head to LTIR, allowing Edmonton to exceed the cap).  He has turned into a legitimate top-pairing player and assuming he's able to come back in 2021-22 and pick up where he left off, he's looking at a significant raise on his next deal.
Four Or More Years Remaining
F Leon Draisaitl ($8.5MM through 2024-25)
F Zack Kassian ($3.2MM through 2023-24)
F Connor McDavid ($12.5MM through 2025-26)
McDavid is the highest-paid player in the league in terms of AAV and it can be argued that he's still on a below-market deal.  He'd have had his fourth-straight 100-point campaign had it not been for the pandemic and there is still room for him to improve.  Draisaitl only led the league in scoring last season, the second year in a row he had more than 100 points.  Both are franchise players that can carry their own lines and there isn't much more that needs to be said.  Kassian's extension in late January felt like an overpayment then and with the market being what it is, it may be even more of one now.  He provides some grit inside their top six with an inconsistent scoring touch.  He had a career year which helped him earn the raise but will need to keep that production up to justify the contract.
Buyouts
F Benoit Pouliot ($1.33MM in 2020-21)
D Andrej Sekera ($2.5MM in 2020-21, $1.5MM in 2021-22 and 2022-23)
Retained Salary Transactions
F Milan Lucic ($750K through 2022-23)
Still To Sign
Best Value: Draisaitl
Worst Value: Neal
Looking Ahead
Even with Klefbom heading for LTIR, Holland won't have much cap space to work with this coming season by the time a new deal gets done for Bear.  Depending on the term of that deal, Edmonton may still have some wiggle room but that may be needed for an injury buffer early on over trying to make one last addition.
The 2022 offseason figures to be an interesting one with Nurse needing an extension and their goaltending situation needing to be addressed.  As a result, expect the Oilers to have a similar approach to their 2021-22 spending as they did this offseason with an eye on short-term contracts designed to give them as much flexibility as possible for Nurse and a goaltender.
Photo courtesy of USA Today Sports Images.