The Vancouver Canucks have avoided arbitration with Jake Virtanen, signing the restricted free agent forward to a two-year contract worth a total of $5.1MM ($2.55MM AAV). Virtanen had an arbitration hearing scheduled for October 28 that will no longer be required.  PuckPedia reports that the deal pays $1.7MM next season and $3.4MM in 2021-22 ($3MM salary, $400K signing bonus) which means his qualifying offer in 2022 will be $3MM.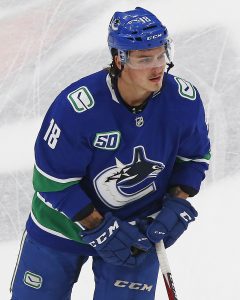 While the other arbitration cases that have settled in recent days may not have a chain reaction across the rest of the roster, Virtanen's new deal has the potential for one. The contract moves the Canucks over the salary cap ceiling of $81.5MM (to about $83MM with a 23-man roster) while also opening a 24-hour buyout window for them (starting two days from now). As always, Loui Eriksson's name will be brought up in regards to a buyout, given he is still the highest-paid forward on the team.
The problem, as it always has been, with an Eriksson buyout is that it only reduces his 2020-21 cap hit by $333,333. While the team will save a pretty penny a year from now, it wouldn't be the answer for their current roster.
Instead, the team seems more likely to complete a trade or go with a smaller roster for the beginning of the season. Virtanen himself has been involved in trade speculation over the summer and with a new contract perhaps that smoke will begin to rise out of Vancouver once again. Teams rarely want to acquire a player with an arbitration hearing scheduled, since they would have to take it over without a ton of time to prepare.
If he stays in Vancouver, a $2.55MM cap hit is certainly not prohibitive given Virtanen did score 18 goals for the team this year. After that improvement in the regular season they expected a lot from the powerful forward in the playoffs, where it seemed his game should be well suited. Instead, he disappointed GM Jim Benning with just two goals and three points in 16 games.
Selected sixth overall in 2014, it's not the first time that Virtanen has disappointed. Even his post-draft year in 2014-15 was sort of a flop, with the Calgary Hitmen star producing only 26 goals in 64 WHL games. For a player drafted that high (and one that had scored 45 the year before), it wasn't quite the production expected. Still, Virtanen jumped straight into the NHL the following season and played 55 games, scoring seven goals and holding his own. When that next step was expected, he once again faltered and ended up playing in the AHL for most of 2016-17.
It's frustrating, given the obvious raw skill, speed and power that Virtanen possesses. In 295 career NHL games he has scored 52 goals and 98 points, a far cry from some of the forwards picked just a few selections after him. At 24 there is still time for him to mature into an impact NHL option, but it will be interesting to see if it happens in Vancouver.
Virtanen will still be a restricted free agent with arbitration rights when the contract expires.
Photo courtesy of USA Today Sports Images