After Tony DeAngelo, Matt Grzelcyk and Andrew Mangiapane all signed new contracts before their hearings this week, the arbitration schedule will be kicked off on Wednesday with Toronto Maple Leafs forward Ilya Mikheyev. Elliotte Friedman of Sportsnet reports that the two sides have exchanged filings. The Maple Leafs have filed for a two-year contract that carries an average annual value of $1MM, while Mikheyev's camp has filed for a one-year, $2.7MM contract. It is important to remember that in the NHL, the arbitrator does not need to choose one filing or the other and usually instead awards a contract somewhere in the middle. The two sides can also come to an agreement in the coming days, though this year once the hearing begins they must wait for the reward and cannot settle while the arbitrator deliberates.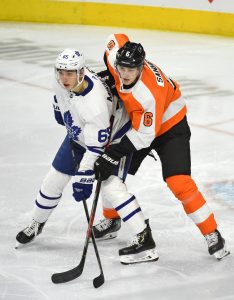 After moving out $6.6MM in the form of Kasperi Kapanen and Andreas Johnsson the Maple Leafs are actually in a fine position to afford Mikheyev's arbitration result and re-sign restricted free agent Travis Dermott. The bargain-bin shopping of GM Kyle Dubas resulted in low-cost additions of Wayne Simmonds, Jimmy Vesey, Zach Bogosian and Joe Thornton, meaning they aren't in quite the salary cap pickle as they were a year ago.  Remember that when Mikheyev and Dermott are signed, two other players can be sent to the minors (or junior, in the case of Nick Robertson) to clear up that extra room.
The hearing for Mikheyev will be interesting though, given how little experience the 26-year-old has at the NHL level. Signed out of the KHL in 2019, Mikheyev was a revelation for the Maple Leafs early on, recording eight goals and 23 points while providing strong penalty killing. He regularly saw time playing beside John Tavares and looked well on his way to becoming a valuable middle-six option for the team. Unfortunately, Mikheyev suffered a scary wrist injury in late-December. New Jersey Devils forward Jesper Bratt's skate came up and sliced Mikheyev's arm, severing tendons and causing the Russian forward to require immediate surgery.
Though he did return for the Maple Leafs short-lived postseason, he failed to score a single point against the Columbus Blue Jackets and now heads into arbitration with just 23 points in 44 career NHL games. Since these hearings are based on actual production, not potential, it's likely that the Maple Leafs will get a bargain relative to what he could have demanded had the injury never have occurred.
Photo courtesy of USA Today Sports Images