With their scheduled arbitration hearing now 48 hours away, the Sabres and goaltender Linus Ullmark have exchanged their requested awards.  The gap, as usual, is fairly substantial, as Sportsnet's Elliotte Friedman reports (Twitter link) that Buffalo has submitted a $1.8MM figure and Ullmark's side has come in at $4.1MM.
Of course, the standard caveat applies that the arbitrator doesn't have to pick one of the two figures and instead, will almost certainly pick something between the two.  New this year in arbitration cases is that once a hearing begins, it has to go to an award and settlement discussions are no longer permitted at that point.  As Ullmark's asking price comes in below the walkaway threshold of $4,538,938, that won't be an option if Buffalo is unhappy with the award.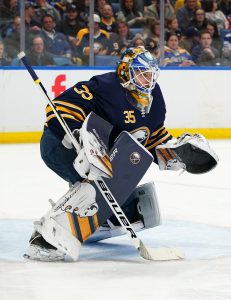 The 27-year-old is in his final year of RFA eligibility so the submissions could only be for one year.  Statistically speaking, he was considerably better than veteran Carter Hutton but the two basically split the starts last season (34 for Ullmark, 30 for Hutton).  Overall, Ullmark had a relatively strong platform year, posting a 2.69 GAA and a .915 SV% which was a considerable improvement on his numbers in 2018-19 (3.11, .905).
Although he has seen NHL action in five straight seasons, Ullmark doesn't have a particularly long NHL track record as he has only made 97 career appearances.  That certainly won't help his case if it goes to a hearing and it may be what Buffalo is banking on with their offer which is on the low end for backup goaltenders.
A one-year deal would put both Ullmark and Hutton on track to reach unrestricted free agency in 2021.  If new GM Kevyn Adams doesn't want to be faced with the prospect of having no established goalies under contract a year or so from now, it wouldn't be surprising to see a last-ditch effort to get Ullmark signed for a little longer before Monday's hearing arrives.
Photo courtesy of USA Today Sports Images.