Despite the excitement of  the free-agent flurry that started off the 2020 offseason, things have calmed down now quite a bit and yet there remain a number of free agents out there for teams to pick up. Yet with little cap room remaining for most the playoff hopefuls, teams are being extra cautious about paying out too much to free agents. especially if they are coming off a down season. That perfectly explains the situation for free-agent center Erik Haula, who has now found himself looking for a fourth team in just two-plus seasons and is coming off a 12-goal campaign last year.
The 29-year-old will be hitting 30 during the 2020-21 season and has dealt with numerous injuries, including a gruesome leg injury that held him to just 15 games in 2018-19. However, that hasn't stopped teams from showing interest in the center, one of the few potential impact centers remaining on the free-agent market, who was ranked 16th in our PHR Top-50 Free Agents. If healthy, he has the potential to fill a second-line center role or be a top third-line option in the middle. He has the potential to put up goals, scoring 29 goals in Vegas' inaugural season in 2017-18.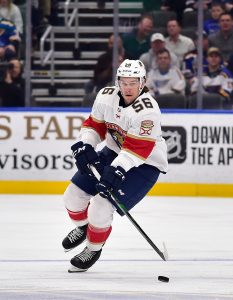 Despite Vegas' love for Haula, the team even had cap issues after their second season and were forced to send Haula to the Carolina Hurricanes to free up some cap room. Haula signed a three-year, $8.25MM contract ($2.75MM AAV) with Vegas as part of a deal for the Golden Knights to select him in the expansion draft from Minnesota and looked like a significant find after the first year. The injury held up that outlook for the next season and Carolina was hoping to recapture some of that offensive magic last season. Instead, he struggled through more knee injuries on and off and only appeared in 41 games with 12 goals before the Hurricanes packaged him to Florida for Vincent Trocheck. Haula scored no goals in seven games for the Panthers before the team's season ended.
However in the right system and with plenty of extra time to allow his knee to fully mend, Haula could fill a significant hole in a team's middle and if everything goes right, could thrive there.
Potential Suitors
Not surprisingly, Haula has received significant interest from at least 10-12 teams, yet no deal has been struck. The forward is likely looking for a potential long-term deal, deals that aren't really offered to players right now as several free agents have had to ink one-year deals in hopes that the 2021 offseason may prove to be more lucrative and hopes that COVID-19 may settle down in a year.
Perhaps one of the most obvious suitors would be returning to the one team where he had the most success. The Golden Knights might be a perfect fit for Haula as the team was forced to send off center Paul Stastny to Winnipeg to save cap room and with Cody Glass' rookie season having also been interrupted by injury, there is a clear opening for a No. 2 center in the system. Of course, the team is so tight against the cap that the team doesn't even have the money for a minimum-salaried deal without clearing more cap room, which will be difficult. The team has already made it clear they will not be moving now back-up goaltender Marc-Andre Fleury, which means they will be spending $12MM on their goalies this coming year.
Rumors that the Pittsburgh Penguins could be looking for a third-line center to fill in some depth for another Stanley Cup run with their veteran squad. Pittsburgh doesn't have a clear-cut third or fourth-line center, so Haula would be a big addition to a team that needs to get more scoring from their bottom-six. Of course, the team must look at their cap issues as well. Other teams such as the New Jersey Devils and the Vancouver Canucks have come up although there are likely many others, but only the Devils have the cap room to easily bring him in.
Projected Contract
PHR initially projected Haula to receive a three-year, $11.25MM deal, although that number now looks quite high considering some of the contracts that other players have received in the last week or so. Players ranked much higher, such as Evgenii Dadonov and Tyler Toffoli each had to settle for less than they were hoping for. Dadonov received three years and $15MM from Ottawa, while Toffoli signed a four-year deal at $17MM with the Montreal Canadiens.
Considering that Haula is coming off two injury-plagued and disappointing offensive seasons, it doesn't seem likely that he can easily pry a long-term deal away from any team and may have to sign a one-year "prove it deal," except for the fact that his services as a center could give him slightly more leverage than most free agents remaining on the market.
Photo courtesy of USA Today Sports Images.