While the frequency of contracts has dropped as expected, there was still some notable news around the hockey world over the past seven days.  As usual, they're recapped here in our key stories.
Scheduling Notes: In a move that didn't come as much surprise, the NHL announced the postponement of the Winter Classic and the 2021 All-Star Game.  The Winter Classic is the most-attended game each season and with significant fan restrictions for the foreseeable future, holding it just wasn't viable.  Meanwhile, the All-Star festivities are another heavily-attended event between fans and sponsors so not proceeding with that makes sense as well.  Officially, neither event is cancelled but it's unlikely either will be held.  Meanwhile, one event that will be going ahead as scheduled despite no fans is the World Juniors as their schedule was released.  The event will get underway one day earlier than usual to allow for all of the games to be played at one venue so the tournament will now start December 25th.
Brown Gets Three Years: Senators winger Connor Brown had a career year in terms of points last season and was one off the team lead in scoring.  That certainly gave him a boost heading into his final year of arbitration eligibility.  The two sides were able to avoid a hearing, agreeing to a three-year deal that carries an AAV of $3.6MM.  While it's likely that he won't average more than 20 minutes per game again as he did in 2019-20, Brown should continue to be a bridge player to their up-and-coming young forward core and by the time the deal is up, he should be back to being in their middle six which is the optimal role for him in the first place.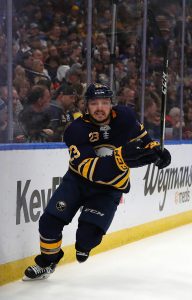 Reinhart Avoids Arbitration: One of the more prominent players that filed for salary arbitration was Sabres forward Sam Reinhart.  While he wasn't able to get back to the 65-point mark last season, he still managed to score more than 20 goals for the fourth time in five years while reaching 50 points for the third straight year.  Reinhart was also in the top ten league-wide in terms of ATOI at 20:38 per night.  That had him in line for a notable raise from the $3.65MM AAV he had on his bridge deal and he received just that, inking a one-year, $5.2MM deal to avoid an arbitration hearing that was scheduled for Tuesday.  The 24-year-old will be arbitration-eligible for the final time next offseason and will require that $5.2MM as a qualifying offer.
Russell Extension: While Kris Russell hasn't lived up to the surprising four-year, $16MM deal he signed back in 2017, he has still been a serviceable role player in Edmonton.  With the Oilers needing to have an eligible defenseman to leave unprotected in next year's expansion draft, the team signed the veteran to a one-year, $1.25MM extension.  It wasn't that long ago that Russell was among the league leaders in blocked shots and while he is used more in a depth role now, he should still be able to provide some value at that new price tag for 2021-22.
Winger Bridge Deals: The flattening of the salary cap has forced more teams to resort to short-term 'bridge' contracts to keep their team intact.  Accordingly, Toronto handed Ilya Mikheyev a two-year, $3.29MM deal, avoiding salary arbitration.  It's a decent pay day for a player who did well with the Maple Leafs in limited action last year but he has less than 50 games of NHL experience under his belt while he also gets to hit unrestricted free agency after that.  Meanwhile, Jake Virtanen's career year earned him a nice raise as he signed a two-year, $5.1MM pact that sets up a $3MM qualifying offer in 2022.  Stars winger Denis Gurianov was sent to the minors early last season but when he was recalled, he became one of their top scorers.  As a result, he was rewarded with a two-year, $5.1MM deal of his own which carries a $2.95MM qualifying offer at the end.  That's a nice increase for a player who was on the fringes of the roster to start the season and didn't have arbitration eligibility.
Photo courtesy of USA Today Sports Images.