The Bruins have taken care of one of their remaining restricted free agents,  announcing that they've re-signed defenseman Matt Grzelcyk to a four-year, $14.75MM contract, avoiding a salary arbitration hearing that was scheduled for Tuesday.  The deal means he more than doubles the $1.4MM he made on his most recent deal.  Pierre LeBrun of TSN and The Athletic reports (Twitter link) that the deal breaks down as follows:
2020-21: $2.25MM
2021-22: $4MM
2022-23: $4.25MM
2023-24: $4.25MM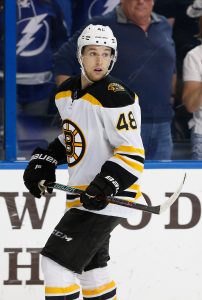 The 26-year-old has been a fixture on Boston's back end in recent years, albeit in a more limited capacity.  Last season, Grzelcyk had a career-high four goals and 17 assists in 68 games for the Bruins while averaging a little over 18 minutes per game in playing time.  While he was limited to just a single assist in 12 postseason contests, his playing time jumped to nearly 20 minutes a night.
While it seems unlikely that Grzelcyk will be able to produce as much as he did at the college level (including one year with Charlie McAvoy), it's possible that there is still another level he can get to offensively.  With Torey Krug gone to St. Louis in free agency and Zdeno Chara's fate uncertain for next season, Grzelcyk stands to be in line for a bigger role for 2020-21 as things stand with John Moore being the only other NHL regular on the left side of their back end.  This deal clearly recognizes that potential while buying out three years of UFA eligibility.
With the move, Boston has roughly $6.5MM to $7.5MM in remaining cap space depending on various projections of filling out their roster.  However, they still have a restricted free agent of note to re-sign in winger Jake DeBrusk which should take up a good chunk of that amount.
Joe Haggerty of Boston Hockey Now was first to report that the two sides were close to an agreement.
Photo courtesy of USA Today Sports Images.