The Boston Bruins have several questions to answer as they examine what went wrong against the Tampa Bay Lightning, including how a team known for their defensive structure and strong goaltending allowed 17 goals in four straight losses. Two of the biggest decisions of the offseason sit on that defensive unit, as Zdeno Chara and Torey Krug are both scheduled for unrestricted free agency.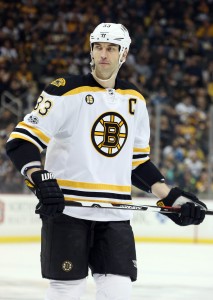 In Chara's case at least, there's nowhere he'd rather be than Boston. The 43-year old captain explained just that to reporters today including Amalie Benjamin of NHL.com:
I want to stay in Boston. I want to be a Boston Bruin.
Chara has played on consecutive one-year deals the past two seasons and earned just $2MM in base salary for 2019-20. His effectiveness in the playoffs was questionable at best, but the legendary defenseman still logged more than 21 minutes a night throughout the regular season, usually taking long shifts on the Bruins penalty kill. His possession numbers plummeted, but as a depth defenseman, it will be hard to turn him down.
If Chara does return, he will be working to become just the 13th player in NHL history to suit up for more than 1,600 regular season games. Currently sitting at 1,553 he reached his 1,000th in a Bruins uniform this year and will likely be headed to the Hall of Fame when it is all over.
Krug on the other hand isn't quite as sure of his return. In fact, today he repeated a line he's used in the past, saying he's not sure what the future holds. Krug did make it clear that he would not consider taking a one-year deal because of the cap uncertainty, explaining that he has "bet on himself before."
The 29-year old defenseman will be one of the very best free agents on the market and is coming off another outstanding offensive season. Krug tallied 49 points in 61 games, taking his streak to seven consecutive seasons (every full campaign of his career) of at least 39 points. One of the best powerplay quarterbacks in the league, Krug has shown his talents in the playoffs before, racking up 52 points in 75 career postseason contests.
Photo courtesy of USA Today Sports Images