Craig Smith has spent the past nine seasons in Nashville but it appears as if he'll be changing teams next month.   His agent Kevin Magnuson told Adam Vingan of The Athletic (subscription link) that the winger will be testing free agency when the market opens up on October 9th and that Smith is seeking a three-year deal.
The 31-year-old has been a part of the Predators organization since they selected him in the fourth round (98th overall) back in 2009.  They've certainly had an excellent return on their investment as he has played in 661 games for them which is good for fourth in franchise history while his 330 points are good enough for sixth all-time.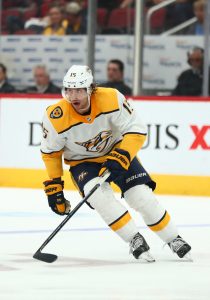 However, his production has tapered off a little bit as of late.  While he managed to get 51 points in 2017-18, it's the only time in the past five seasons that he has reached 40.  This season, he played in 69 games, tallying 18 goals and 13 assists but perhaps more tellingly, his playing time dropped to just 13:25 per night, the lowest in his career.  His usage dipped a bit further in the playoffs as he logged only 12:49 per game in their four playoff contests while being held off the scoresheet.
Smith had a $4.25MM AAV on his deal for the last five seasons and while his recent production seemingly wouldn't justify that price tag again in what should be a weakened free agent market, Magnuson seems to think that his client will be able to once again be in that range.
I think the number, because there are eight to 10 teams that have decent cap space, I think we won't be too far off at the end of the day. He's not going to be signing any blockbuster deals, but at the same time, he's going to be in the market or a little bit above it, I think.
Nashville has just over $8MM in cap room at the moment but they have multiple roster spots both up front and on the back end to fill with that money.  If some of those players sign for close to the minimum, they should have enough cap space to re-sign Smith or add another veteran but for the time being at least, they're not prepared to bring Smith back although Magnuson wouldn't rule out a reunion once the veteran sees what his other options will be next month.
Photo courtesy of USA Today Sports Images.