As teams are eliminated from the Qualifying Round, it means that the offseason has arrived for several more squads.  Having covered the teams that weren't a part of the NHL's return, we shift our focus to the ones that have been ousted.  Next up is a look at Edmonton.
With the top two scorers in the NHL on their roster, the Oilers were a popular pick to do some damage in the playoffs.  Instead, they were ousted by Chicago (the 12th seed) rather handily in the Qualifying Round.  The needs in Edmonton have been the same for a while which means GM Ken Holland's to-do list may look a little familiar.  However, with minimal cap space to work with, finding a way to address everything could be somewhat of a challenge.
Add Proven Scoring Wingers
Draisaitl (110 points) and McDavid (97 points) led the way offensively this season while Ryan Nugent-Hopkins was third with 61.  They all have one thing in common – they're all natural centers.  While it's great to have that type of depth down the middle, an extreme lack of production from the wing often forced the Oilers to shift Draisaitl and Nugent-Hopkins to the wing in an effort to jumpstart their offense.  To put into perspective how little scoring from the wing they had, Zack Kassian had the most points of any natural winger with 34 which is basically third line production.
There are internal options but they all have flaws.  Kailer Yamamoto showed some chemistry with Draisaitl in the second half of the season but was shut down easily against the Blackhawks.  James Neal had 19 goals but struggled at times to the point where his role had to be limited at times.  Andreas Athanasiou (more on him later) was hit or miss after being acquired while Alex Chiasson unsurprisingly wasn't able to duplicate his 22-goal campaign from a year ago.  All of these players have a spot on an NHL roster but none of them are impact scorers and only Yamamoto has a shot at getting there.
Of course, Edmonton has another early draft pick in their system in Jesse Puljujarvi.  While he's already signed for next season in Finland, that deal has an NHL out clause and as Mark Spector of Sportsnet noted earlier this week, talks between his camp and Holland continue to the point where Spector believes that Puljujarvi will indeed sign with the Oilers for next season.  There could be some upside there or he could be more of a tertiary option as he was in his first stint with them.  They need to add someone more proven than him.
Cheap options and marginal upside plays are quite important in a salary cap environment and they will be even more important now with the Upper Limit flattening out.  However, even with $70MM committed already, Holland needs to bring in at least one legitimate consistent offensive threat on the wing; the centers can't do it all on their own.
Decide Athanasiou's Future
Just before the trade deadline, Holland made a move to try to bring in scoring help on the wing when he picked up Athanasiou from Detroit in exchange for a pair of second-round picks.  A year removed from a 30-goal season, the move made some sense, even though he was in the midst of a down season.  Played with McDavid or Draisaitl would surely get him going.  Or so they thought.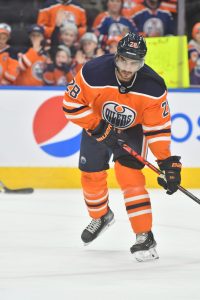 Instead of playing and producing more, the opposite happened.  He had just a goal and an assist in nine regular season games before the pandemic while he played just over 12 minutes a game.  In the playoffs, he was held off the scoresheet entirely while logging even less ice time at 10:58 per game.  Stylistically speaking, Athanasiou's speed makes him an ideal fit for an Edmonton team that's trying to play at a high tempo but the early results weren't encouraging.
Part of the season that Edmonton surrendered two high draft picks to get him was the fact that he still has two more years of team control; he isn't eligible for unrestricted free agency until 2022.  While his $3MM cap hit was a bit high for his production this season, the expected increase in the Upper Limit made him an affordable option.  But then the pandemic threw a wrench into all of that.  Now, a $3MM qualifying offer may be too pricey for them to afford.  Yes, it's possible that he signs for less than that amount but he'd need some incentive to do so and that's tricky to offer at this time.  It would be a tough outcome if they wind up non-tendering someone that they dealt two good draft picks for just months ago but it is a real option here.  That decision will need to be made fairly quickly as they'll need to know whether they need to save $3MM from their other planned spending before they can start trying to address some of their other needs.
Find A Second Goalie
Last summer, Edmonton brought in Mike Smith to give them another option behind Mikko Koskinen.  The intrigue with Smith was that he could log more than a typical backup should the unproven Koskinen struggle.
From that standpoint, Smith's addition was a success.  He actually wound up making more starts than Koskinen (37-33) and it was telling that he got the nod to start against Chicago.  However, the end results weren't as strong.  Smith had a 2.95 GAA which was 20 points higher than Koskinen while his .902 SV% was 15 points lower.  Edmonton fans certainly don't want a reminder of Smith's numbers against Chicago where he was yanked after coughing up five goals in less than half a period.  All of a sudden, it's fair to question whether the 38-year-old pending unrestricted free agent should be part of the picture again next season or whether they should go in another direction.
Internally, Stuart Skinner and Olivier Rodrigue have some upside but neither is ready for NHL duty just yet so if they do go in another direction, the new goalie will have to come from outside the organization.
The big question is going to be what type of second goalie are they seeking?  Are they looking for a starter that would push Koskinen into a lesser role?  Do they want a platoon mate, similar to what Smith was for them this season?  Or do they think Koskinen is ready for the number one job where they can go for a cheaper backup?
Presumably, the second one is the likeliest target given Koskinen's inconsistency; having another goalie that can shoulder the starting workload for bits and pieces of the season would be wise.  Fortunately, there are several of those available in free agency although the best ones will cost more than the $2MM plus games played bonuses that Smith received this season which could limit what they spend to fill other areas.
Photo courtesy of USA Today Sports Images.