The Columbus Blue Jackets were without Brandon Dubinsky for the entire 2019-20 season thanks to a chronic wrist injury, but he does have another year under contract with the team. Unfortunately, at this point, it doesn't appear as though he will be able to return at any point. Blue Jackets GM Jarmo Kekalainen told reporters today including Aaron Portzline of The Athletic that Dubinsky will "most likely" not play again because of the injury.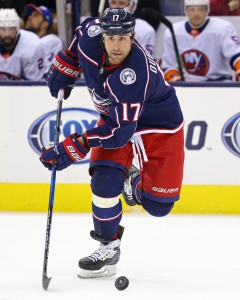 If that's it for the veteran forward, he leaves the NHL with quite a successful career. A second-round draft pick of the New York Rangers in 2004, Dubinsky was in the NHL before his 21st birthday and never looked back. A heart-and-soul contributor for the Rangers throughout the first five full seasons of his career, he recorded 213 points in 393 regular season games on broadway.
In 2012 he was part of the massive trade that took Rick Nash to New York, heading back to Columbus beside Artem Anisimov and a first-round pick. Dubinsky would sign a long-term extension with the Blue Jackets in 2014, one that will still pay him $5.85MM next season even as he hits long-term injured reserve.
For the Blue Jackets, this actually may be something of a blessing in disguise, despite the leadership role that Dubinsky serves on the club. The team can move him to LTIR and gain a bit of extra cap flexibility instead of seeing his contract—which carries the second-highest cap hit on the team—anchor their finances next season.
Alternatively, because Dubinsky's contract still owes him a full $5.85MM in salary, the Blue Jackets could move it to another team. Clubs all over the NHL will be looking to cut costs as revenue plummets, leading to an opportunity for those that are still financially stable. Columbus have made moves like this in the past, initially swapping Nathan Horton and David Clarkson's contracts with Toronto because of a difference in insurance coverage, and then giving up draft picks to Vegas in order for them to take Clarkson's deal off the books as well.
It is unfortunate how it looks like it will end for Dubinsky, but the 34-year-old can look back and be proud of an 823-game career. He is currently sixth all-time in Blue Jackets scoring, and had 438 points overall.