The offseason has arrived for at least seven teams that were not invited to take part in the play-in round that's slated to begin in early August.  With that in mind, our Offseason Keys series is underway for the teams that are on the outside looking in.  Next up is a look at Ottawa.
The Senators committed to a full-scale rebuild over the last couple of years when they dealt away the majority of their top players.  Not surprisingly, the corresponding performance this season wasn't particularly strong.  The good news is that they have built up a strong prospect pool and are set to add to that with two picks in the top five in October.  But hitting on those two selections is only a small part of what they will be looking to do this offseason.
Spend, Spend, Spend
For a team that, let's face it, has shown a reluctance to spend towards the Upper Limit of the salary cap, this may seem like a strange header.  In normal times, they likely wouldn't be going out of their way to take on contracts but this isn't anywhere close to being normal times.  The cap isn't going up and that means there are going to be plenty more motivated sellers this offseason than we've been accustomed to seeing.
Ottawa has a strong stockpile of picks and prospects already but there is always room for more at this stage of their rebuilding phase.  The more options they have, the better.  Those will likely be the currency getting used to make those deals and GM Pierre Dorion should be quite interested as a result.
The Senators would likely be shopping at a different end of the market though and it actually may wind up being to their advantage.  While higher-spending teams will be shopping for the best talent available and trying to drive a hard bargain to get the best deal possible, Ottawa's previous willingness to take on high AAV deals that carry a lower salary is going to be appealing to teams looking to cut money.  (Their past trades for Marian Gaborik and Ryan Callahan – both injured players – provide another pathway to pursue if it's a short-term deal as well.)  Rather than lose an impact player, parting with a decent sweetener to pawn off an inflated AAV is a much better alternative and Dorion should be poised to take advantage of that, perhaps better than any other team.
Duclair Deal
Last summer, the Senators played it safe with Anthony Duclair, a move that was certainly understandable given his past performance.  Instead of looking for a long-term deal, they opted for a one-year, $1.65MM pact which the winger certainly lived up to and then some this year.  While his production was still streaky at times, he finished up his year with 23 goals (a career high) and 40 points while his point-per-game rate of 0.61 was better than any other season in his career.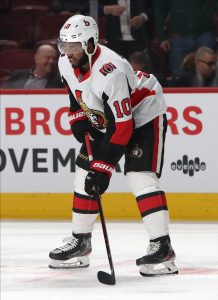 With salary arbitration rights, Duclair is looking at a nice raise this offseason even with the salary cap flattening out.  But will it be a long-term contract this time around or a short-term one?  He's two years away from UFA eligibility so it's at the typical point where the bridge contract is now done and a long-term deal is worked out.
That still doesn't seem like an automatic outcome here, however.  As some of Ottawa's prospects work their way up the system, is there going to be a spot for Duclair in their top six a few years from now?  If they think the answer is yes, then this is probably the best spot to buy out a UFA year or two at the very least.  But if not, another short-term pact (perhaps even another one-year contract) may be the better way to go even though it runs the risk of getting him to a point next summer where he opts for a one-year arbitration award to expedite a shot at the open market (for the second time after he was non-tendered in 2018).  This will be one of the trickier decisions that Dorion will have to contend with in the coming months.
Add A Top-Six Center
Part of the reason that Jean-Gabriel Pageau was in the middle of a career year before being shipped out at the trade deadline was that he was effectively Ottawa's number one center by default which allowed him to average more than 19 minutes per game.  That's not an ideal amount of ice time for him but in head coach D.J. Smith's defense, he didn't really have any other options.  Colin White struggled mightily in the first year of his new deal, Chris Tierney is best used on the third line, while Artem Anisimov and Nick Paul should be in even lesser roles.  It got to the point where Brady Tkachuk was tried in the middle at times and while he held his own, his willingness and ability to engage physically makes him a better candidate to stay on the wing.
Granted, Ottawa does have high hopes for Josh Norris but despite a stellar rookie campaign in the minors, he's not stepping into that role right away.  Neither is Logan Brown, a player who hasn't been able to put it all together just yet.  There's a good chance that they'll wind up with at least one center with one of those early selections but throwing them to the wolves right away with a spot on the number one line is asking for trouble.
It's not an area that Ottawa is realistically going to be able to address in free agency as quite frankly, the UFA market for centers isn't the greatest.  It's also unlikely that they'd be the top bidder if there was one out there.  Instead, this is one spot they'll likely have to make a trade to improve.  A number one pivot is doubtful but as teams are looking to free up money, some quality second liners should be out there.  Even that would represent a considerable upgrade on what their current options are and would allow their up-and-coming youngsters to ease into their roles which, from a long-term development perspective, would be ideal.   Someone with three or four years left on their contract would fit in relatively well and would be a nice addition for Dorion to make.
Photo courtesy of USA Today Sports Images.